A common question I receive by some prospective clients is:
"I'd like to come in for just a few sessions so you can show me how to do the exercises and apply what I've learned in another gym, studio, or at home; is this possible?"
My answer to this is:
"I cannot teach you to perform Renaissance Exercise outside of this studio any more than I can teach you to play guitar on a trumpet".
An alternative answer might be:
"Yes, I can most definitely teach you how to do non-machine exercises. I'll require about six months just to get you started…"
We stand by a policy that expresses that three key components must be present in Renaissance Exercise:
1. Environment
2. Proper Equipment
3. Protocol (under the supervision of a qualified instructor.)
As Ken Hutchins has stated, the three components are of equal importance and interlocked. Without all three components, a Renaissance Exercise program is really nonexistent. The components form a system and any system must be viewed with gestalt.
In almost every case where this protocol seems to have failed the subject's expectations an omission of at least one of these parts has occurred. Sometimes it's perfectly obvious that the environment was inconsistent with our requirements. Other times the problem was that the equipment was tragically unsuitable for the protocol. And often, (especially among instructors who should know better) the protocol is butchered and bastardized repeatedly and insidiously until it's virtually worthless.
In any of the foregoing cases and beyond, it is the protocol/philosophy that is wrongly blamed with a failure to deliver – when, in fact, it is a careless instructor who has misrepresented the incomplete package as a whole system. This misrepresentation has effectively made former iterations of controlled, high intensity strength training, almost impotent and justly subject to criticism.
Within the paradigm of the three components, a program of Renaissance Exercise offers the most effective and efficient program for everything from general fitness to rehabilitation. The neophyte subject can quickly become proficient at performing the protocol as the skill requirements of the exercises are significantly lower than those required when using conventional equipment. As a beginner moves to proper intermediate levels of exercise, benefits abound. Finally at the advanced level, the Renaissance Exercise subject can fully realize his muscular potential and experience the broadest spectrum of improvements and adaptations.
We require such draconian measures to help us answer the all-important question :  "How little exercise does one require?"
Without these standards of rigor, without this level of technology, it is a daunting task to usher the lay public into a high intensity program where we insist that 20-40 minutes of exercise per week can produce better results than the 3-5 days of weekly activity commonly practiced.
Going back to our prospective client who wishes to practice a semblance of the protocol outside of the ideal environment, it is important to remember that one cannot experience Renaissance Exercise outside a proper studio.
Having said this, once a subject has truly reached advanced levels performing Renaissance Exercise, such a subject can be taught to perform select exercises in less than ideal environments and using the body as resistance and/or with lesser equipment. Make no mistake however, that such a workout is NOT a Renaissance Exercise workout and represents only a modest substitute.
It should also be made perfectly clear that such practice represents the highest order of difficulty and requires the utmost in skill and proficiency. In other words, a skilled and experienced individual may be able to perform such a workout but beginners and intermediates will have a much harder time making such a workout worthwhile. The reason for this is that the major exercises that allow for any semblance of substitution are actually the most difficult to perform of all exercises.
Push-ups, chin-ups, free squats and basic free weight activities require a foundation of great strength and tremendous skill and practice to be performed well. They are unlike the machines at our studios which reduce necessary skill to extremely low levels.
For example, it takes an enormous degree of study and practice to properly perform a push-up where it requires only a few basic workouts to learn to chest press on a well designed machine.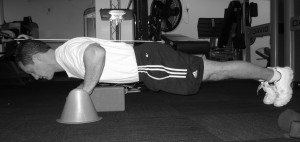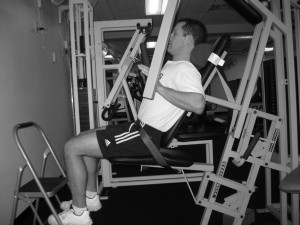 This will strike most readers as outrageous and extreme but I must submit that in all my years as a professional instructor, I have never seen someone perform a proper push-up (this applies equally to chins and squats).
Again, I suspect this will sound absurd, particularly to strength training enthusiasts but as I've said many times before, this is all quite elusive.
Moral fortitude, positive thinking, and even high levels of willpower are not substitutes for proper technique and I hasten to say that strength training requires some serious technique. And unfortunately such technique requires skill and practice…or more appropriately, 'perfect' practice.
Additionally, with body weight exercises, the subject is mostly at the mercy of a level of starting resistance often far ahead of his initial strength levels. (I'll concede that it is possible to reduce starting resistance in bodyweight exercises by manipulating pivot points in the body etc. but such technique requires skill, also).
I feel confident in summarizing my contention that proper chin-ups, push-ups, and the like are at the most difficult end of the scale of complexity and difficulty in strength training activity and require study, practice, motivation, and patience.
For example, in a proper push-up, one needs to be able to start the exercise at the stretch, maintain head and neck neutrality, torso and leg rigidity, and perform with uniformly slow speed without distorting, wiggling squirming, thrusting or lunging. The hips must not dip, the shoulder blades must not collapse, the knees must not bend, the elbows not sway, the arms must not ratchet, the body must not rock, the head must not move, and this list goes on and on. And of course, discrepancies escalate as fatigue sets in which also breeds a strange type of claustrophobia at the stretch which precludes any meaningful inroading.
I highlight all this to evidence that the seemingly innocuous push-up is, in fact, a high-skill exercise that is not to be underestimated. The same goes for a proper chin, squat, barbell curl, etc…
When you ask an instructor to show you how to push-up or squat, you're asking him to show you how to perform upper level martial arts, or how to play music on a new instrument, or how to ride a motorcycle. These are not activities that one can learn quickly. They require study, theory, and ongoing, repeated practice. This will be sobering and perhaps even disheartening to some but to suggest otherwise is not only overly optimistic, it's downright irresponsible.
Having said this, I do believe that the burden of such skills is not insurmountable, especially for the truly motivated and disciplined subject. My suggestion for anyone who wishes to apply our most general principles to basic and conventional movements is to practice a small number of basic exercises well and often. Research proper performance of these basics in books and online. Make every effort to execute your movements with focused precision and intent. Record your performances using video and watch for every possible discrepancy and continue to practice. Practice in the early stages should trump ambitions for intensity (i.e., muscular failure and deep inroad).
Only when you've practiced sufficiently and over-learned these activities can a program of free squats, push-ups and chin-ups be productive and effective. With the eventual inclusion of some TSC exercises it is possible to experience a semblance of a Renaissance Exercise workout at home.
As always, please leave us your thoughts and comments below and we will be happy to personally address them!