First let me preface this post with a distinction in terms.
When I refer to "Personal Trainers" such as those who follow the RenEx protocol I am referring to "Instructors".
If you haven't read the article Differences by Ken Hutchins click here first and then read the post below.
______________________________________________________________________________
I often get asked by clients or friends "How do you sit there and do the same thing day after day?  Don't you get bored?"
To the outsider looking in I can appreciate their perspective.  They think I just take a client through a workout and press a stop watch.
In fact, other personal trainers who have observed us on a daily basis may come to the same conclusion.
They think, "Oh that looks easy. Just get the client to move slow, press a stopwatch and clicker and take the client to failure. I can do that!"
Little do they or anyone who has never engaged in this type of training appreciate all of the meticulous detail and knowledge that goes into what they see on the surface as "Boring/Easy".
I can understand how exercise instructors can get bored or burned out. Just like anything in life, if you are not fully engaged and passionate about what you are doing then you will lose interest.
In fact, I've heard trainers referred to as over paid friends, gym caddies or even pin pullers.
This is may be the reality of some but it is NOT mine or my staff!
Our exercise instructors are NOT just instructors.
We are LIFE CHANGERS!
We are in the business of OPTIMIZING ONE'S HEALTH AND FITNESS AND IMPROVING THE QUALITY OF ONE'S LIFE.
We just happen to do this through exercise instruction.
I don't know about other trainers, but to me that is PRICELESS and fulfilling.
When I meet someone new and they ask me what I do, I simple reply with "I improve the quality of people's lives".
They will inevitably then ask me "How do you do that?"
I reply with "I do that through one on one exercise instruction and nutritional consulting."
At that point I have their attention and they are intrigued.
Now that is a little networking trick I use to engage people but it is absolutely true!
"Are you bored with Life? Then throw yourself into some work you believe in with all your heart, live for it, and you will find happiness that you had thought could never be yours."
– Dale Carnegie
This is how we keep our trainers engaged and retained.  They appreciate the greater good they do for people.  This only gets reduced to pulling pins if you let it. (We've also found that the more the instructor knows about the Renaissance protocol, the more interesting their day becomes)
In John Di Julius's book What's The Secret?  To Providing A World Class Customer Experience we writes:
"Let's talk about the toughest job in the world, nursing.  Most hospitals today will tell you how nurses are underpaid, understaffed, overworked, and as a result, many are burned out.  What if we called them "Daymakers"?  Because that is what they actually are.
If they were constantly referred to as Daymakers and they had to introduce themselves as Daymakers, wouldn't that make them reconsider their role and the sensitivity they must have with every patient and family member they come in contact with?  Who do you think are happier with their jobs, nurses or Daymakers?" 
I tell every new potential employee we interview that working here is NOT a job.
This is a career and if you are not passionate about changing lives and helping people then this is NOT the right place for you.
I then tell them that the day you wake up and come to work and think this is just a job and you are dreading it, then this is the day you need to tell us so we can develop an exit strategy.
I appreciate that trainers come and go.
I'm not ignorant to that fact.
Nor do I believe that they will stay with us forever UNLESS they are constantly engaged with their passion and they fully appreciate the outcome which they provide to clients.
They CHANGE LIVES!
I can't tell you how many times we have clients tell us that they have dropped their blood pressure medication or can walk up the stairs without getting winded or just recently we had a client walk out of the hospital the day of his total hip replacement.
WOW!
I could go on and on and I'm sure you could too.  This protocol CHANGES LIVES!
However, this profession is NOT for everyone.
And High Intensity Training is NOT for everyone. We all know this to be true.
Perhaps burnout comes from not necessarily the repetitive nature of "doing the same thing" BUT taking on the tremendous responsibility of being a trainer and a business owner.  That is of course if you own a business.
Are you a Technician or an Entrepreneur?
Let me make this CLEAR!
In order to run a successful business you can only do so much yourself.  At the end of the day to succeed, you must learn to work ON your business and not IN your business. (Read the E-Myth by Michael Gerber if you have not. In my opinion it is required reading for any entrepreneur).
As a fitness business owner, most of us all started out as technicians.  We had what Gerber calls an entrepreneurial seizure and thought "Why should I work for a gym when I can do it myself and do it better".
So we quit our job and open up our own personal training business.  Then we quickly realize that we own a job NOT a business.
If you are working IN your business you own a JOB.
If you are working ON your business you own a business.
Now, I know what you are thinking…I have to train 15 people today and do the bills and get some new clients in the door and clean the facility and on and on.
You are a one man show (or you have some limited help) and you are stuck doing it, doing it, doing it.
Trust me, I've been there and I do still work IN my business BUT I spend the majority of my time working ON my business.
Now this wasn't always the case.
In the beginning it was just Josh and I seeing 80-90 sessions a week each until we got smart and started hiring help!
As we have grown our company we have put all profits back into the business in order to get to the position we are currently in.
We have evolved from trainers to business owners.  This requires a shift in your thinking.
Ultimately you have to make a decision.
Do I want to own a business or a job?
Getting back to my point about burning out.
If you are a trainer who owns a business and you are DOING EVRYTHING, then yes, burnout maybe just around the corner.
It is at that point you must decide if you want a job or a business.
Owning a business is not for everyone and there's nothing wrong with that.  There is NO shame in just being a trainer.
In fact, it is the trainer that drives the business!
I personally believe that people should play to their strengths and NOT spend so much time improving their weaknesses.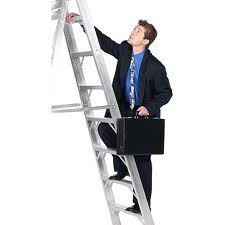 For example, most people think that in order to be "successful" in their career they have to move up the corporate ladder.
They think, "I'm a trainer now so the next step is manager and then the next step is owner".  Unfortunately more people fail when they are "promoted" to a position that does NOT suit their strengths.
Managers need to be able to manage people and projects. This is a far different skill set than training a client.  BUT it doesn't mean that if a trainer doesn't progress to a manager that he/she is less of an employee/person.
You should think of the hierarchy more on a horizontal line rather than a vertical climb to the top.  This is the culture you need to create within your business. Without my trainers, I am NOTHING!
If the trainer doesn't train the clients and get them results and retain them then you have no business.  The front line employees are often the most undervalued and unappreciated. When in fact, if it were not for them the business would not prosper.
So you must take a deep look at what your ultimate goal is in life.
If you want to own a business then you better start working ON it and hire others to work IN it.
Otherwise, burnout maybe right around the corner.
To prevent burnout for those you hire to work IN the business you must keep them engaged and help them to grow within your business.
You'll be amazed at what happens if you just let people evolve!
Lastly, you must hire those who want to be Life Changers NOT personal trainers.
As always, go ahead and post your comments below and we will personally answer them!