In my previous installment addressing the topic of breathing during high intensity exercise, I alluded to the idea that our respiration, if left untouched by the Val Salva maneuver, could possibly be the crudest tool we have to measure the rate and depth of muscular inroading and the general performance/adherence to the Renaissance Exercise protocol. 
My objective during this installment is to begin to try and explain how the things that I have observed as an instructor have led me to this conclusion. This subject will be divided into two parts.
"Everyone is always teaching one what to do, leaving us still doing the things we shouldn't do."
F.M. Alexander 
In my formative years as an instructor I would at times get frustrated with being unable to get a subject to do something that I asked.  A gleaning example of this is getting someone to load up correctly during the commencement of a leg press.
Despite specific instructions to "breathe freely", "load up gradually", or "take a good 3-5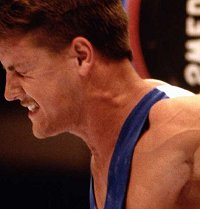 seconds to initiate the first inch", a subject will more than likely perform some type of restrained and tensed maneuver to provide themselves some mechanical assistance in breaking the inertial load. Even having them "over-breathe" this load up (in an attempt to reduce intra abdominal pressure) only worked half of the time. This frustrated me because I could seem to do it myself almost effortlessly, yet folks who probably double me in the IQ department, couldn't seem to compute such a seemingly simple task.
This wouldn't have been a major issue if it didn't somehow seem to affect the remainder of the set. I surmise that there is a profound educational tool in learning how to initiate this phase that will neurologically "prime" and "lock in" the intended musculature and their recruitment sequence during the remainder of the set. 
It is almost as if the quality of the exercise is determined by how the subject initiated the movement. This isn't difficult to understand when one realizes that the quality of that initial "loading up" is reflective of a particular attitude and that if that attitude isn't present right from the get go, then it isn't likely to be present for the remainder of the exercise.
Oddly enough, I've found the most practical and effective tool for ingraining this attitude is the proper application of "squeeze technique". The "squeeze technique" is, in my humble opinion, what makes or breaks this protocol, but that is a topic for another post.
I digress.
The observance of this phenomenon (Val Salva while initiating movement) led me to wonder, "Could it be possible that the quality of muscular loading is reflected and determined by the degree to which the subject enacts the Val Salva maneuver?"
In other words, the speed of motion and therefore the protocol of choice, might to a large degree, be determined by whether or not the Val Salva is enacted. This may sound slightly outlandish and overly anal retentive, but I have good reason (I think) to believe it is true.
I would actually go as far to say that it might be impossible to suddenly apply muscular force without first performing the Val Salva maneuver.
I've performed experiments on myself where I've tried to apply muscular force abruptly and simultaneously tried to avoid a Val Salva and it is (by my determination) impossible.
I feel to come to this conclusion one must be acutely aware of what the Val Salva maneuver could be at its most subtle level. It is exactly this subtle awareness that I have found to be the most effective tool in breaking the tendency to perform the Val Salva maneuver prior to loading up.
Simply paying attention and being aware of the process seems to be all that is necessary to stop it.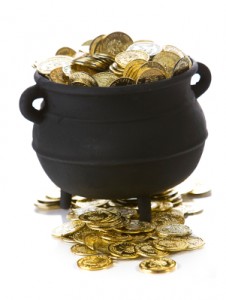 After all, breathing happens on its own if we allow it. The process of getting a subject to pay attention in this fashion can be arduous, but the payoff is huge in the sense that they have just taught themselves something extremely profound about their habitual reactions to stress. I have rarely seen someone go back to their old way of trying to break an inertial load once they discover this, not to mention this level of attention spills over to the remainder of the set.
Once again, it has to do with laying the groundwork for a particular attitude and intention.
Once one has avoided the Val Salva maneuver, muscular force will more or less happen gradually.
What we have now is a situation where the manifestation of the protocol will be contingent upon three things: Val Salva (or lack thereof), the subjects' willingness to "chase" a consistent rate of speed, and the source of resistance (equipment). 
Given my experience and observations, I find the argumentation over protocol choices a bit silly. You either feel that ideal loading occurs without the Val Salva maneuver or you don't. If you are of the opinion that ideal muscular loading will occur in the absence of the Val Salva maneuver (and I obviously am), then you are not left with a whole lot of options with regards to how you will effort against a particular resistance source.
Is it necessary to hold up such an ideal?
I have no idea, but without at least moving in that direction, neither I nor the people I train have any direction.
After a subject has learned to avoid the Val  Salva maneuver, they now have provided you the instructor, with the most profound feedback to determine how well they are engaging the intended muscles at any given moment…..oxygen debt.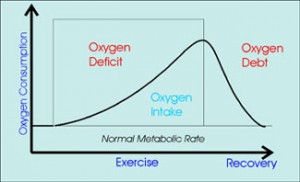 You can't fake oxygen debt and how that relates to protocol performance will be the topic of my next post.
Until next time, please post any comments below and we will personally reply! We'd love to hear your feedback.