Drew Baye stopped by to visit with Ken at the facility a couple of weeks ago and he posted his RenEx Experience on his blog.
With his permission we have posted it here:
The Renaissance of Exercise
Written on December 8, 2011
A few months ago while editing Elements of Form I started investigating language and consciousness and other aspects of psychology in an effort to better explain the details of exercise performance, along with important concepts like the real versus the assumed objective and the appropriate mindset for true, high intensity effort. I decided to completely rewrite most of the book as a result, focusing on the optimization of various details of mental and physical performance, environment and use of technology. The past few months have been a process of detailed examination and hard thinking which have resulted in what I felt were huge leaps forward for me both in my understanding of exercise in general and as an instructor.
Today I had the opportunity to speak with Ken Hutchins about Renaissance Exercise(RenEx) and began reading The Renaissance of Exercise: A Vitruvian Adventure (TRoE hereafter for brevity). While our paths could be considered convergent I was astounded by their advances and refinement of both the protocol and the equipment. After seeing and trying some of the new machines I don't think words can adequately explain the degree of improvement over everything else out there. "Amazing" is far too small a word, and my first reaction, "holy shit!", doesn't quite do it either.
I won't say any more about the equipment for now, and I will not give any details on the equipment since they have their own timeline for presenting them.
As much as I feel I have made huge leaps forward just over the last half a year I am as blown away by TRoE as I was the first time I read SuperSlow: The Ultimate Exercise Protocol over seventeen years ago. Although I am only a few hours into reading it, I feel it is even further beyond Hutchins' SS technical manual than that manual was beyond Arthur Jones' Nautilus Bulletins in terms of the refinement of the philosophy, protocol and instruction of it.
In 1996 I was so excited about Hutchins' SuperSlow philosophy and protocol I left my job, college, and everyone I knew to move across the country with nothing but my car, some books, and some clothes to work with and learn from him. Today I felt that excitement again. As much as the past six months have felt like a period of enlightenment for me, it would appear RenEx are truly bringing about a Renaissance in exercise.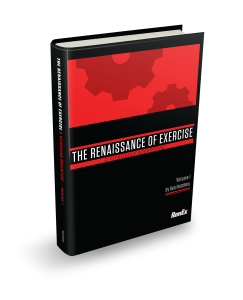 P.S. If you haven't grabbed your copy of The Renaissance of Exercise: A Vitruvian Adventure Volume 1 be sure to do so before the end of the week because we are running out of copies!
Click here to grab your copy!
P.P.S. Don't worry, no waiting for the order button 🙂