Exercise for the Human Knee
Part I
by Ken Hutchins
Note: This material is excerpted from a more-complete chapter in
The Renaissance of Exercise—Volume II by Ken Hutchins.
As with other joints, when we say "exercise for the knee" or "knee exercise" we really mean "exercise for the muscles about the knee." The knee is a joint, and our volitional control directly affects action of the muscles, not the joints, per se, and for the most part.
Another source of confusion: Knee flexion (knee bending) function is often addressed by a so-called leg curl exercise and knee extension (knee straightening) function is often addressed by a so-called leg extension exercise. To maintain exercise names that reflect joint function is to support precise and consistent nomenclature.
General Descriptions
So with that said, we go on to consider joint function. The knee has four functions: flexion, extension, medial rotation, and lateral rotation. We will primarily focus this discussion on extension.
More superlatives are applied to the knee than any other joint in the body. It is simultaneously the largest joint and one of the most unstable. It possesses 13 ligaments—sometimes known as its static stabilizers. It is driven and also dynamically stabilized by three different muscle groups. And in any position, the involved bones of the knee are never in more than partial contact. The knee possesses the largest synovial membrane of all human joints.
To contrast, the elbow has great stability, because it is mostly statically stabilized by the ligaments and boney delimitations. Most of the knee's stabilization is dynamic—muscular—not ligamentous or boney.
Note that the elbow—although far more stable than the knee—often incurs a much more serious injury when it is disrupted. In a sense, the knee's inherent instability actually allows more latitude for functional compromise.
Humanly Unique
The human knee is unique among the primates, most particularly unique among the apes. There remain only four extant apes: gorilla, orangutan, chimpanzee, and human.
One of the oldest and most complete human ancestors yet found was discovered by Donald Johanson and Tom Gray in 1974 in Ethiopia and affectionately named, "Lucy." Lucy's most revealing feature was her knee. Not only was her knee nearly complete, but it proved she was, indeed, a true human ancestor by virtue of being able to walk erect.
In making these statements about Lucy's knee, I am aware of the controversy that surrounds Johanson's discoveries. Note that such controversies in anthropology are common, and that I find this one particularly frivolous and impertinent:
http://www.talkorigins.org/faqs/knee-joint.html
Nevertheless, the human knee is distinctive among the apes, because it can completely straighten and lock with an attending quasi-relaxed muscular state. The exact mechanism of knee locking is somewhat puzzling and, if interested, I refer you to Mechanism of Locking at the Knee Joint by K. Rajendran:
www.ncbi.nlm.nih.gov/pmc/articles/PMC1166437/?page=1
"Quasi-relaxed muscular state" is my description for a condition whereby the muscles about the knee are mostly relaxed but not completely passive. The resident antagonists are pitted against each other progressively more with relatively greater longitudinal loads along the aligned proximal and distal leg bones. With relatively small loads, these muscles are barely activated. With greater loads, they quiver as they remain protective against hyperextensional forces that might exceed the structural integrity of the cruciates et al. and protective against inadvertent flexion that would collapse the boney support in the opposite direction.
Lucy was immediately recognized as human ancestry (hominid) by Johanson and Gray because other primates—particularly the extant apes—cannot stand erect. Lucy stood and walked erect. Her valgus knee tells us this. Lucy also had a lumbar curve, another indicator of habitual bipedalism.
Chimps do not stand and walk erect. Their knees don't allow for it. And the architecture of the knees of extinct primates dependably reflect the possibilities—yes or no—for erect walking.
Yes, we witness chimps demonstrating bipedalism. But they don't like to do it… at least not for long. Since they cannot lock out their knees or extend them as far as we can ours, standing upright on their rears is uncomfortable. So they don't do it for long and come down on their haunches as soon as convenient.
Gross Human Movement vs. Appendicular Joint Behavior
Most human movement is roughly linear. Reach for an item at the dinner table. The motion of your hand—that device at the end of your upper appendage designed for grasping—moves away from your torso or face and then back to your torso or face in a roughly linear track. This is almost always the case with where we take the ends of our appendages, be they feet or hands.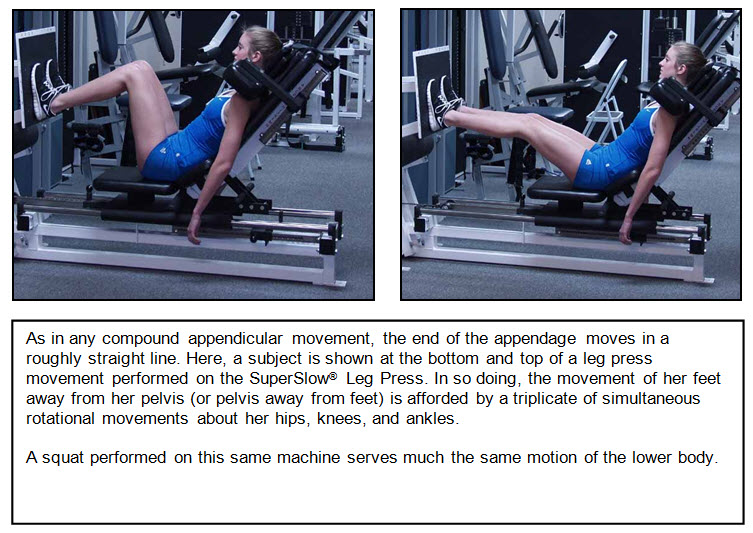 But as Arthur Jones noted in an explosion of insight, roughly linear human movement is potentiated by rotational joints. For the most part, joints—particularly appendicular joints—are rotational.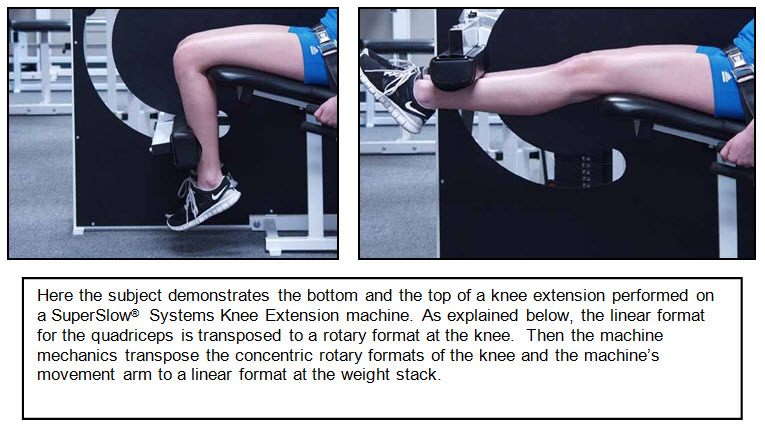 Arthur's great epiphany regarding joint rotation was breathtaking! So simple it's stupid. Where had we all been? This was so obviously true. Why did we not know this? Why did not someone else observe this and point this out as it applied to exercise? Was the medical community sleepwalking? This should have come to us just after fire and the wheel, but we don't seem to have been that smart!
And yes, Arthur was not the first, but he was the most vocal and expressive about the rotational nature and virtues of the joints. Obviously, men like Zander and Nolan did not entirely ignore this fact.
Yes, these joints do not portray a perfectly circular rotation, because they are ovoid (a la John V. Basmajian).
Yes, these joints have some component of translation. Sliding (translation) simultaneously occurs with the mostly-rotational gross action (a la John V. Basmajian).
And yes, there are joints that behave in an almost purely translational sense, but they do not directly affect this discussion.
But the general plan is rotary form. Hence, Arthur's first machine was a rotary-form Pullover, and from that basic plan he developed all the other rotary-form machines and, hence, his Ten Requirements of Full-Range Exercise. And as I have explained before, Arthur somewhat got in a rut on this, but that is a tangent better put aside for now.
So there you have it: Joints are rotary. Human motion is linear. But there is another factor of motion—the muscles, those "force-producing engines" as Leonardo aptly described.
Force is always linear. And note that "resistance," "pressure," "load," "weight," and "tension" are all merely special expressions for "force."  Therefore, there is no such thing as "rotary resistance" contrary to what Arthur preached. Therefore, muscle contraction and the force it produces are always linear.
Transposition
As already alluded, there are two basic kinds of motion: translational (linear) and rotational. Through the application of mechanics—primarily the lever—we transpose between linear and rotational formats.
The linear contraction of the muscle is transposed to a rotational format at each joint. Then a triplicate of simultaneous rotations in the limb transposes action at the hand or foot to a linear format. This is what occurs in typical gross bodily movement: standing, sitting, walking, running, crawling, climbing, etc.
In a relationship between an exercise machine and the human body there are always two transpositions in the most elegant state.
Deeply consider the previous sentence. It is profound and consequential. Note the term, "elegant." It is synonymous with "nonreducible."
Consider that more than two transpositions are possible, but never less than two.
For example, the vintage Nautilus Duo Squat machine introduces a transpositional pair (cam) beyond the linear format of the foot—between the foot and the weight stack.
Also, consider a leverage machine such as a Hammer Leg Press. It, too, introduces a transpositional pair beyond the linear format of the foot. Note that the final format is linear—gravity—as in all cases that are gravity-dependent.
In 1984, while visiting my engineering friend, Bob Hicks, in Atlanta, I designed—but never built—a leverage leg press that incorporated a sequence of four transpositional pairs beyond the linear format of the foot. I did this to more finely control the resistance applied to the final harmonic lever.
Also, consider an electro-magnetic resistance source. Again, force—as from a magnet—is linear and is transposed to a rotary format in an electric motor. The same thing occurs with the piston and crankshaft in an internal combustion engine.
And, ultrastructurally, there is at least one transpositional pair before the linear format of the muscle. This pair exists at the articulation of the crossbridges!
Linear-Form Transpositions With a linear-form exercise such as a leg press we go from a linear muscle to a rotational joint (transposition #1) and then from the rotational joint to a linear appendage end (hand or foot) (transposition #2) applied to a linear movement arm (no transposition) drawing a linear weight stack or resistance source (no transposition).
Rotary-Form Transpositions With a rotary-form exercise such as a knee extension we go from a linear muscle to a rotational joint with a rotating appendage (transposition #1) applied to a rotational movement arm (no transposition) that is then transposed the second and last time to a linear weight stack (transposition #2).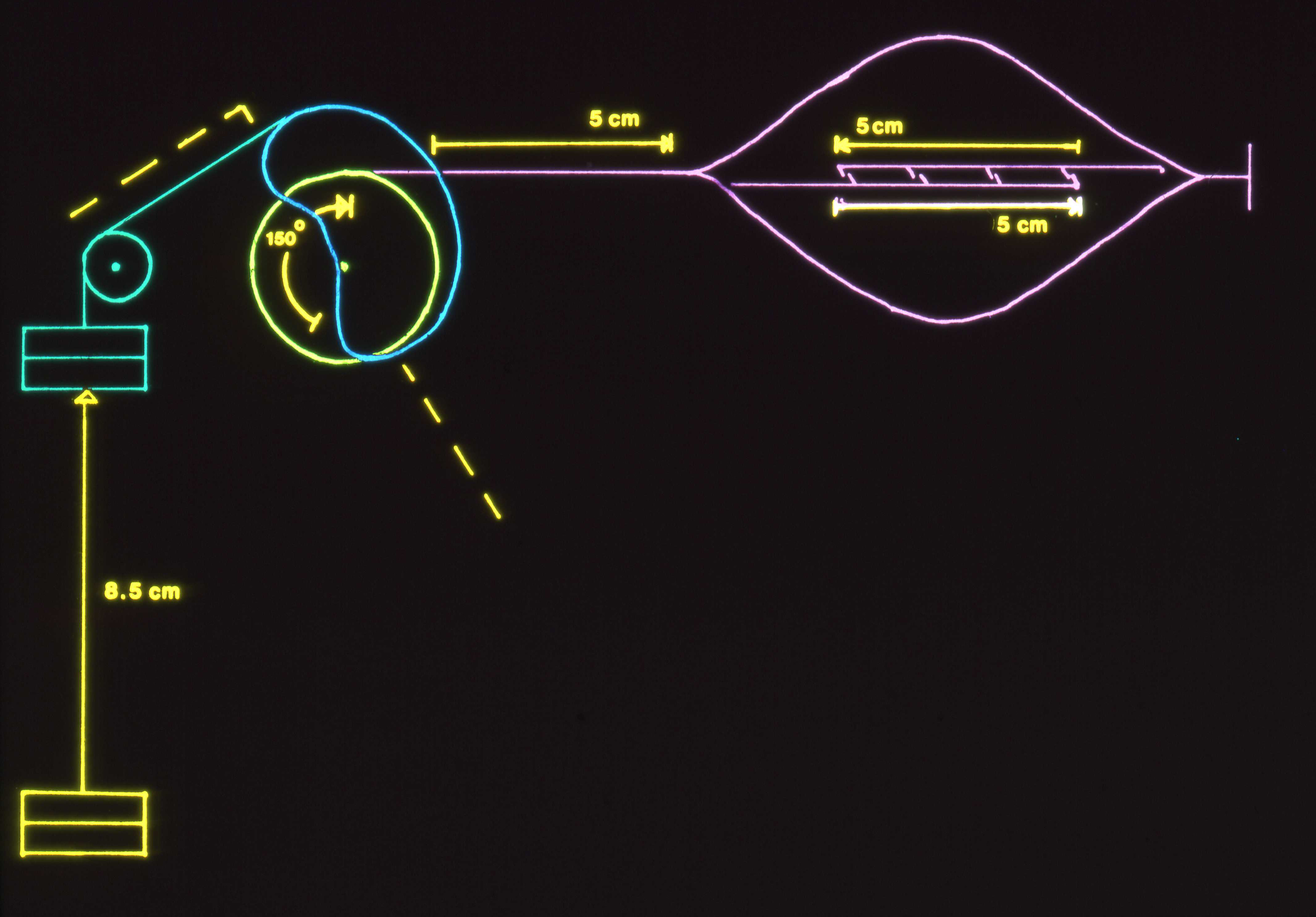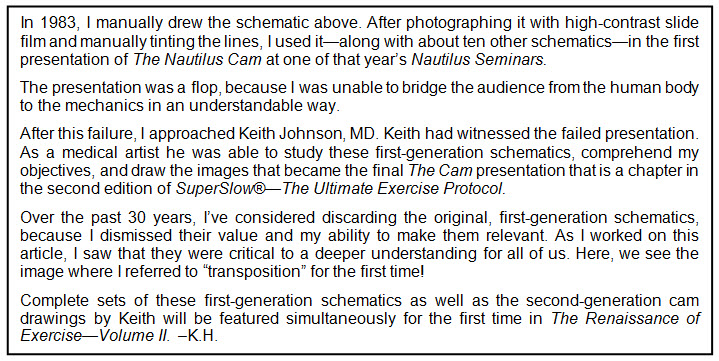 Therefore, a leg press exercise serves us well to track the basic action of the feet, which, of course, include articulations at the knees as well as the ankles and hips. In such an exercise, all lower-body musculatures are involved—although some more than others. And with respect to the knees, per se, both the flexors and the extensors are worked.
As Arthur Jones emphasized, such a linear exercise—although very valuable—possesses some mechanical flaws. The same attributes of the knee that enable us to walk and stand almost indefinitely and effortlessly due to what I call "lockout" and what Arthur termed "infinite moment arm" also diminish our ability to keep the quadriceps—among other structures—meaningfully loaded at or near lockout. Since the load becomes in line with the aligned upper and lower leg bones at or near complete extension, meaningful load fades away as we approach the lockout.
As Arthur Jones said, "At lockout, the legs can support weight of the universe. In fact, the legs can lift the universe a very slight distance during the last seconds of a degree of extension. Of course the bones would be crushed."
Transposition Shift
The single best exercise is a leg press. Without the dangers of a squat (especially a barbell squat), a leg press works the most number of muscles. It works the largest muscles. It is the most physically demanding exercise. It is the most productive exercise. AND… it is the exercise that most subjects would like to avoid. All of these descriptors are connected.
But the most geometrically and mechanically perfect exercise is knee extension. It is that exercise where it is possible to best isolate the target musculature by restraining the torso. It enables the load to be precisely modulated about one joint whereas such mechanical control is impossible to do about a triplicate of joints as in a linear-format exercise such as the leg press.
But the most important advantage of the leg extension is meaningful load potential at full knee extension. Due to its rotational format, there is no lockout and no place of unload. And the rotational format allows for precise and safe loading of the knee—assuming the speed of motion is adequately slow.
This advancement is made possible by what I term transposition shift. Rather than the second transposition of the leg press exercise being in the body, we shift the second transposition to the machine mechanics in a Knee Extension machine employing a rotational format. And this allows us to precisely control that transposition rather than remain at the mercy of the inappropriate load magnitudes—too high or too low—inherent during the body's linear motion.
Note that Arthur attempted to control the mechanics during the body's linear format by his creation of the Nautilus Duo Squat machine. This was folly due to the extreme linear loading that converged onto the knees from several simultaneous sources already discussed in other articles.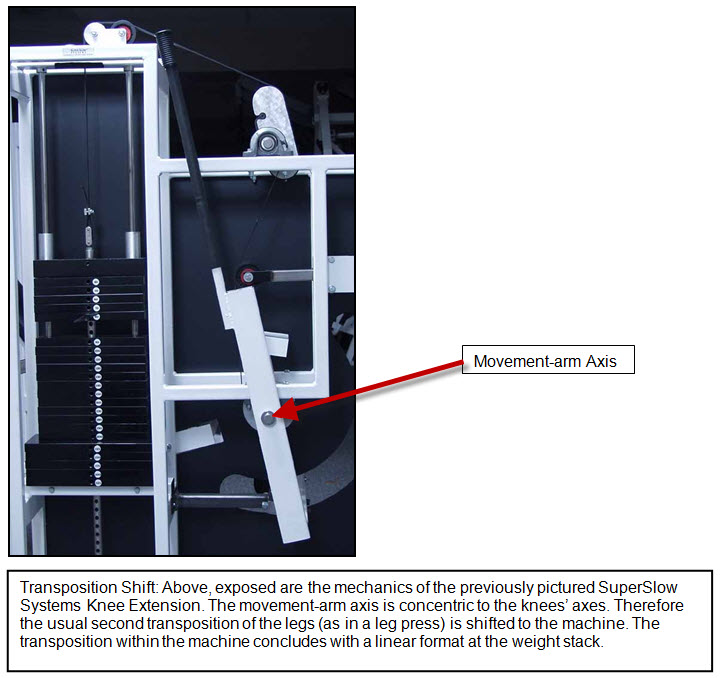 Although Arthur never used the transposition terminology that I created, it does explain why he suggested that single-joint, rotary-format exercise machines were theoretically ideal. For a while he even mused that compound movements were no longer necessary. I never went that far—not even close. I say just the opposite for most applications, but both linear and rotary-format exercises have a place.
Once we get this far with an understanding of the required movement format to best exercise the human knee, there are other issues. The correct resistance modulation is then sought, and this is impossible without a strict adherence to a 10/10 speed protocol. This is explained in detail in The Renaissance of Exercise—Volume II due to be published sometime later this year.
In part II, we will briefly explore the fact that a rotary-form exercise machine allows rotary-form joint movement but might or might not impose rotation at the joint. We will also touch on the issues of closed-chain vs. open-chain terminology and the shear force nonsense.