Exercise for the Human Knee
Part III
by Ken Hutchins
Note: This material is excerpted from a more-complete chapter in
The Renaissance of Exercise—Volume II (ROE-II) by Ken Hutchins.
Some History
I gathered most of the following information—regarding the Nautilus cam profiles—in 1986 just after Arthur Jones sold Nautilus to the Ward Group of Dallas. The new owners were considering modification of the resistance curves on the Nautilus machines, but there was a big problem. There was no documentation of these curves. No one knew what they were (to begin with), and the only way to get this information was for me or Clay Steffee or Gary Jones to perform tedious measurements. We were the only remaining people knowledgeable to perform cam take-off measurements. Clay and Gary rehired me back into the company specifically to perform this task, because Clay did not have the time to do it, and Gary was leaving the company.
Measuring the instant levers from a cam with respect to its position is relatively easy, but almost every engineer in the fitness industry performs this incorrectly. When I worked for Nautilus, I was amazed at the profound ignorance surrounding this simple technique. And I never accept the measurements of others unless I witness their procedure. In ROE-II I will explain this in detail, but for now I only compare some curves from some knee extension machines.
Purpose
As I announced in Part II, my purpose herein is to expose the worst offenders of excessive load as the knees approach complete extension in a knee extension device. And as I accuse, the shear talkers—while unable to clearly substantiate that internal loads on the cruciates become excessive during such exercise—are largely ignorant of the loads provided externally by various equipment and exercise modalities, including the ubiquitous knee-setting.
Meanings
To compare curves, I use several expressions. If I say that a curve portrays a "12:1 fall-off," this indicates that its largest instant lever is 12 times greater than its smallest. This expression does not necessarily indicate where in the range of motion the greatest and smallest reside, but a ratio this large usually assumes that the top of the positive excursion is the location of least resistance.
The blatant exception to the last statement is that the X-Force Leg Quadriceps machine somewhat decreases as complete knee extension is attained and then increases approximately 40 % when the subject pauses at completion.
If I say that, "the ratio is 1:12," I indicate that the resistance is the opposite of a fall-off. It is an increase. And note that this example is not a realistic occurrence. I don't believe that I have seen such drastic increase, although the negative cam in the vintage Nautilus Duo Squat was theoretically capable of this, and I never measured the production machine.
A 12:1 fall-off is a large fall-off, but note that 13:1 or 14:1 or 15:1 does not impress me as being much more.
My opinion and perception: Meaningful changes are likened to f-stops on a camera lens aperture. Really meaningful steps are doublings of light—or in this case, doublings of ratio. Hence, a meaningful increase in fall-off from 12:1 is probably going to be 24:1 or at least half that change (18:1—half-steps).
Two Major Cam Classes. There are three cam classes used in exercise equipment. The only pertinent ones here are the positive cam and the negative cam.
The positive cam winds-on the drive belt, chain, or cable during positive excursion, and its increase of instant lever length is directly proportional to the load increase placed on the body. It is most useful for portraying resistance decrease especially an accelerating decrease.
A negative cam winds-off the drive belt, chain, or cable during positive excursion, and its increase of instant lever length is directly proportional to the load decrease placed on the body. It is most useful for portraying resistance increase especially an accelerating increase.
I can easily design and make fall-offs of tremendous ratio. I do this by decreasing the instant lever of a positive cam to values close to zero. I could go to zero (or beyond); however, the system requires a minimum of lever to overcome the minimal friction in the machine to make the weights come back down from the position of minimum lever. At this exact point (assuming correct timing of the minimum lever), the musculature will have adequate load merely by squeezing hard into its own tissues, but there resides a possibility that the weights stick at the top of their travel once the subject comes out of the so-called squeeze. Such extreme minimum levers are therefore to be avoided.
When complaining about the lack of adequate fall-off in the early Nautilus Leg Extension models, engineers sometimes replied to me that, "Our newest designs are going to be made to fall off an additional 15-20%," or something to this effect. Eventually, I came to understand that this meant practically nothing. If the Series III Leg Extension portrayed a fall-off of only 30%—ratio = 10:7—then the additional 20% was of the 30%, an imperceptible change. This merely changed the 30% to 36% when truly meaningful percentile changes would be to 60% then to 120% then to 240%—i.e., doublings.
Granted, sometimes these miniscule improvements seemed palpable, but this appearance was because the friction in the machine was lessened with the incorporation of bearings in the later models.
Also note that when we trained on the Super Leg Extension for several years at an increase of nearly 50%, a round drive wheel—hence, no cam—would seem to have a decrease. Therefore going from the Super's 1:1.45 ratio to the Series III's 10:7 ratio seemed a tremendous improvement. And in some ways it truly was.
Also, it is of paramount importance to place the statements and cam-design philosophy of these engineers in the context of their personal movement speed in the equipment. I have never seen a Nautilus engineer who trained properly with respect to the speed of movement. In fact, they often exhibit the most violently fast behavior, while it is impossible for anyone performing excursions faster than about eight seconds to be truly perceptive of and sensitive to the details requiring much attention.
And I must acknowledge that my movement speed—back in the 70s and early 80s at Nautilus—was far too fast.
Procedure
So I set about to collect all the pertinent information. First, I gathered all the Nautilus models—past and present—of all the machines I could find.
Then I collected all of the latest production cams as well as old ribbed production cams if they were to be had. In some cases I had to use cams that I removed from complete machines after I had marked their timing positions.
Then I precisely reproduced the geometry of each cam and its redirectional sprocket on a large vertical plywood mount so that I could rotate and lock them relative to joint positions in five-degree increments. The instant levers (in inches) are the data in the following four plots that took me several months to complete with the addition of 15 other machines (plots).
Note the symbol (arrow points at each end of a vertical line) I used to denote the location on the curve where knee extension typically ended (or started) although the cam profile that I measure extended somewhat beyond that point.
Note that I dated and initialed each of these plots.
The Nautilus Leg Extension-1
To begin, I feature what I believe to be the Leg Extension-1 (LE-1). This machine vintage was ~1973-1976. Note that the resistance steadily increases throughout the positive. Note that I designated "0" position as the machine start position, not anatomical position.
Its ratio is 1:1.44—an increase of nearly 50%.
The LE-1 is interesting to me for its distinctive counterweights. Since the movement arm was eccentric, it required counterweighting. Hence the larger club, integral with the remote workbox (cam, rear drive wheel, and counterweights), cancels this eccentricity.
The cam itself also is eccentric and the smaller club, integral with the workbox, cancels its eccentricity.
Therefore, these eccentric bodies—the movement arm and the cam—were originally treated as independent components of the system. Contrast this to the naked LE-2 pictured later, and note that it possesses only one counterweight. This counterweight was used to cancel the entire system (instead of separate components of the system). Two counterweights are now deemed unnecessary, and one is regarded as more elegant.
The caption boxes will explain most of the other features of the equipment.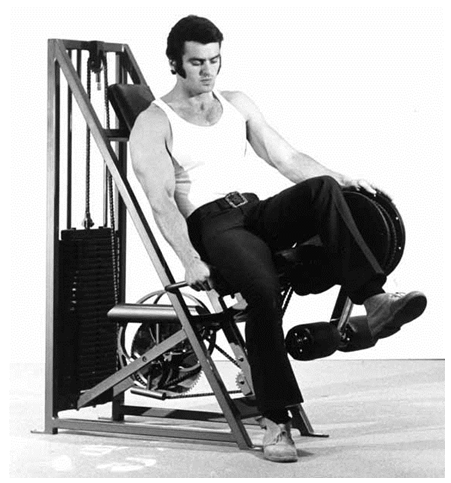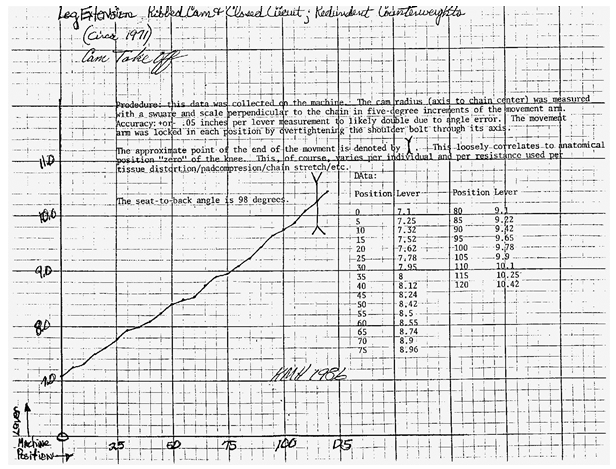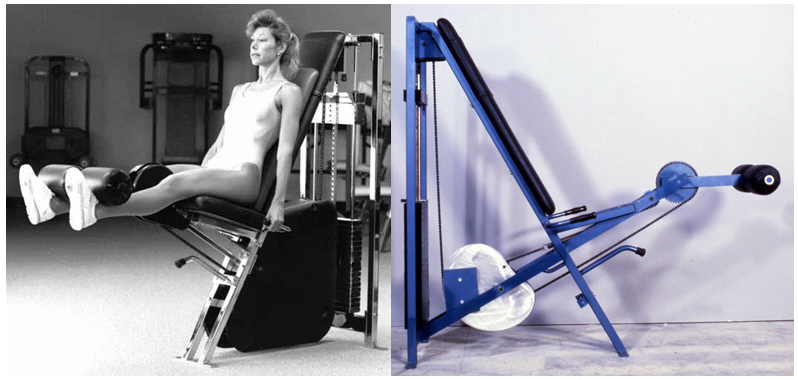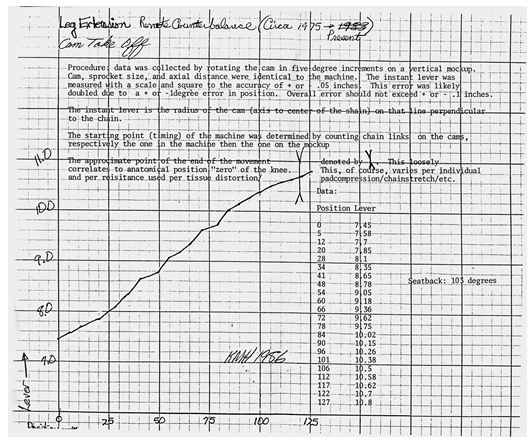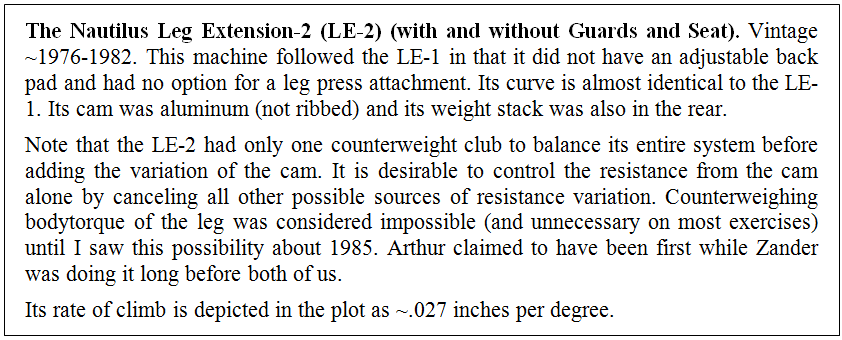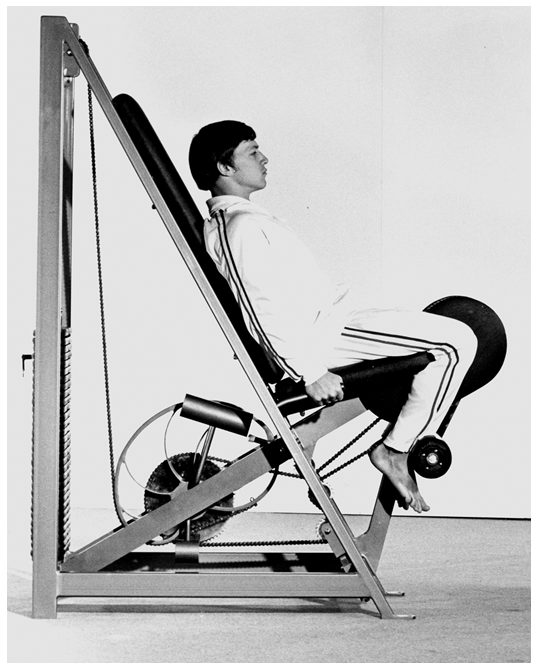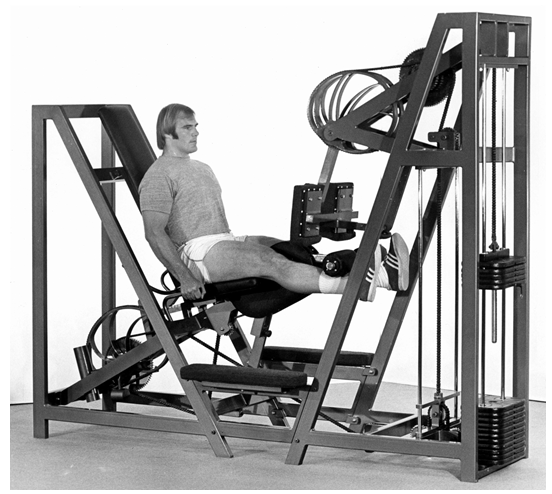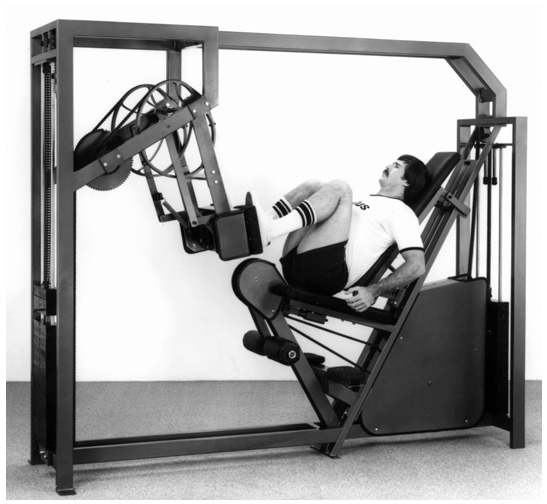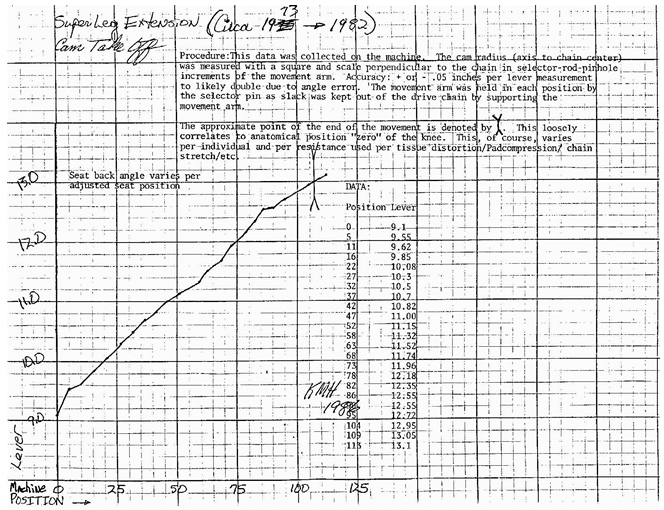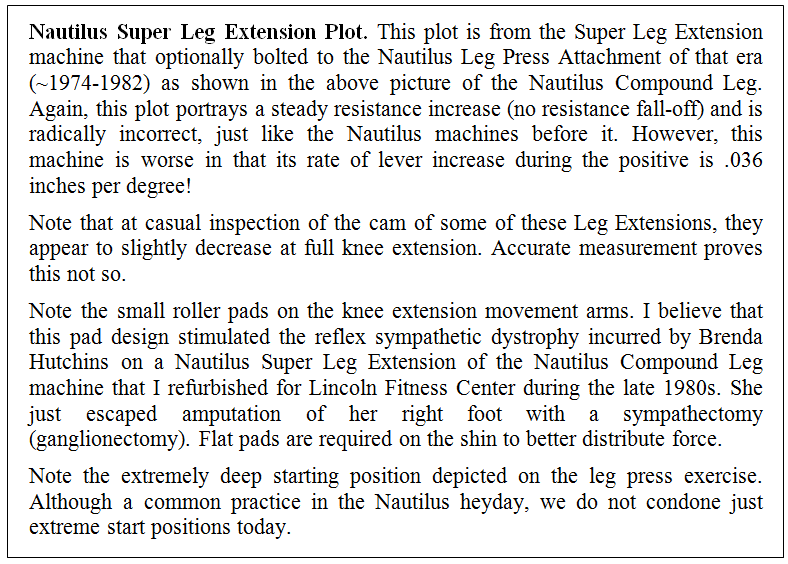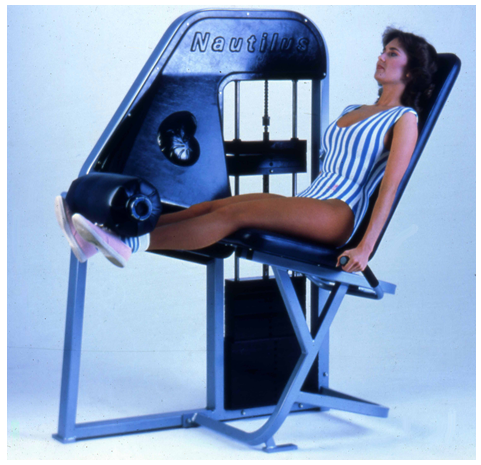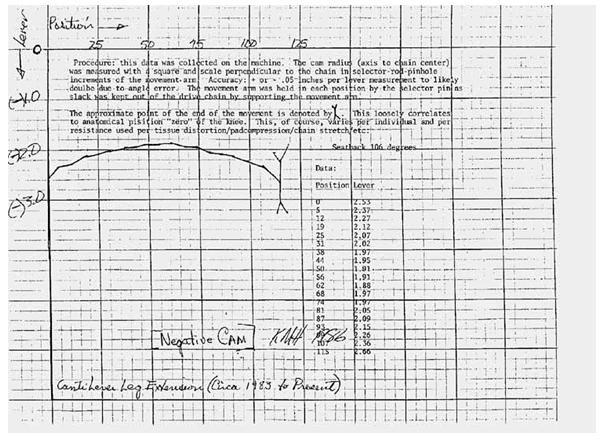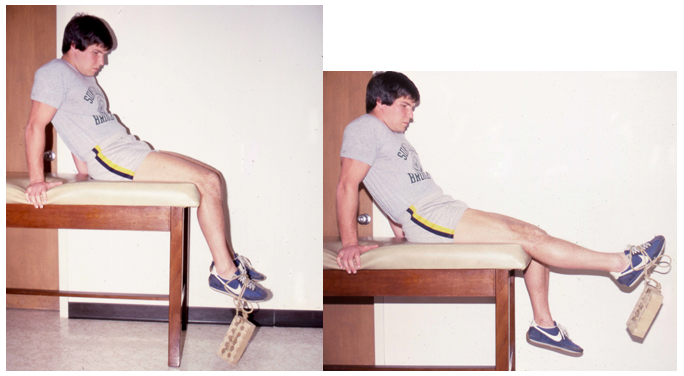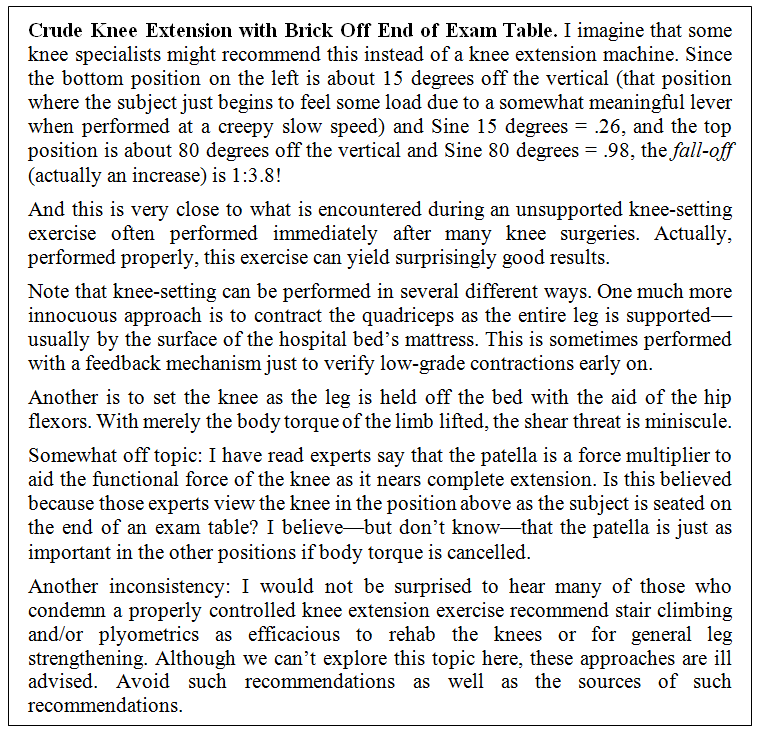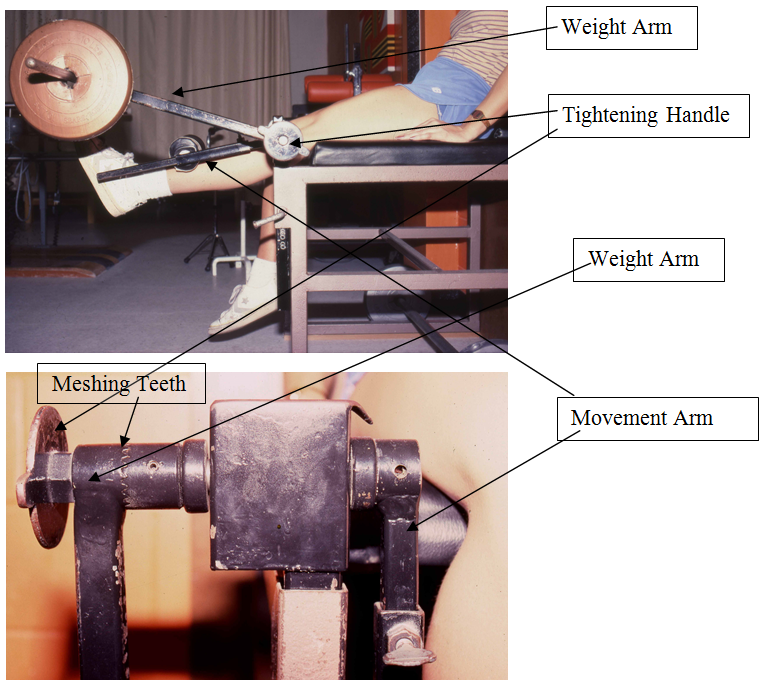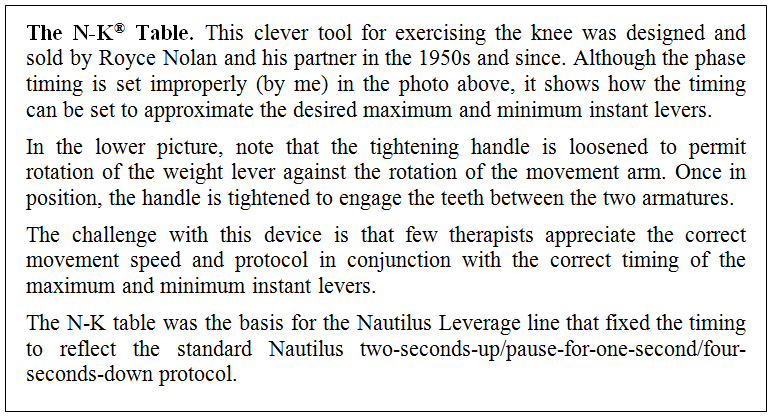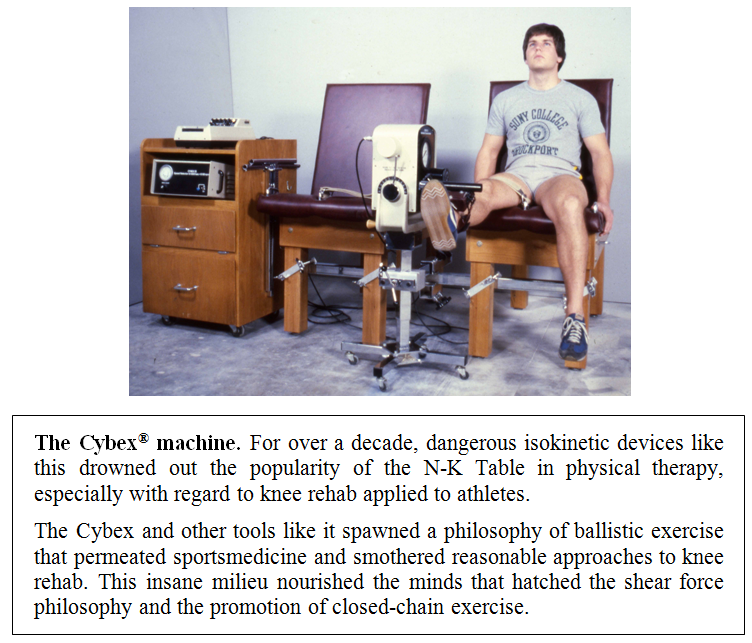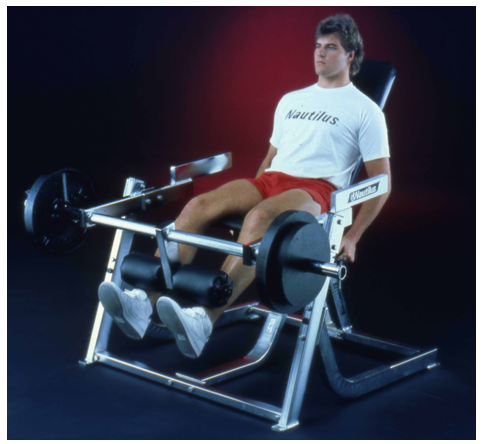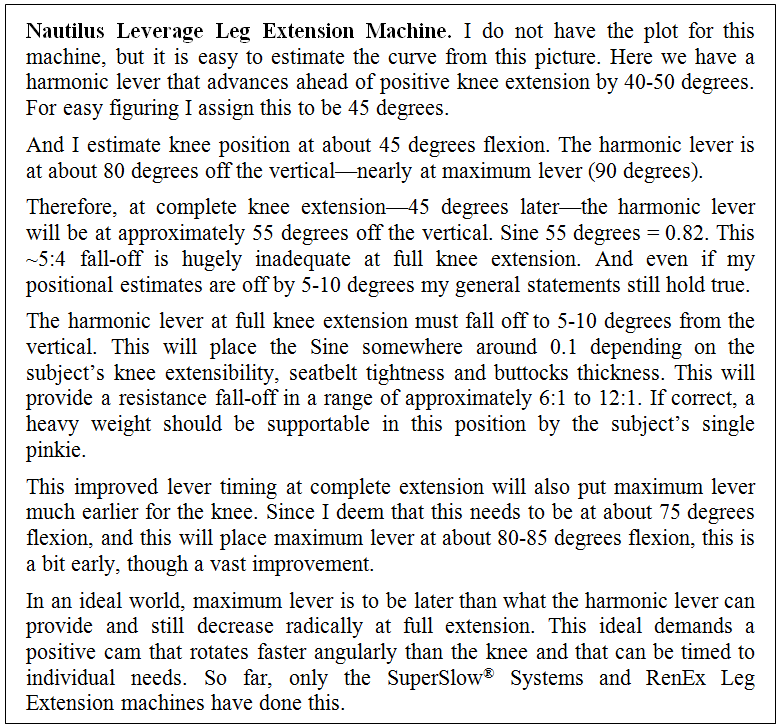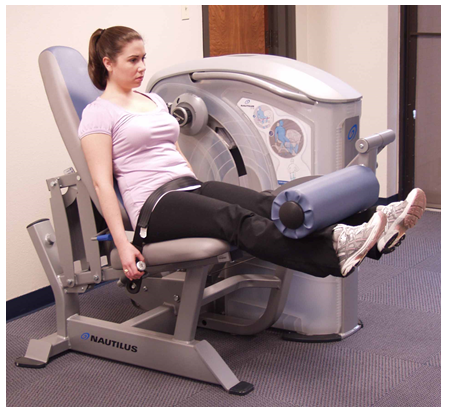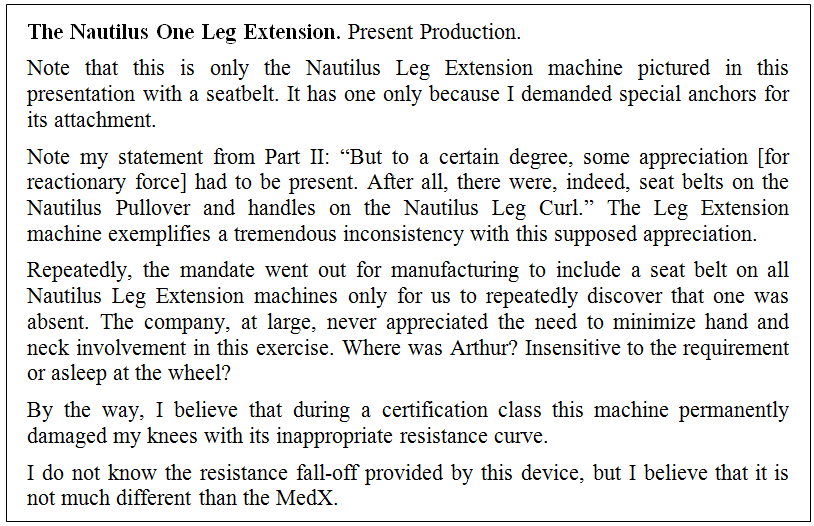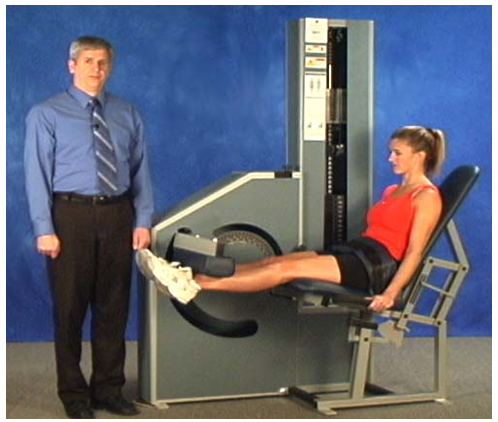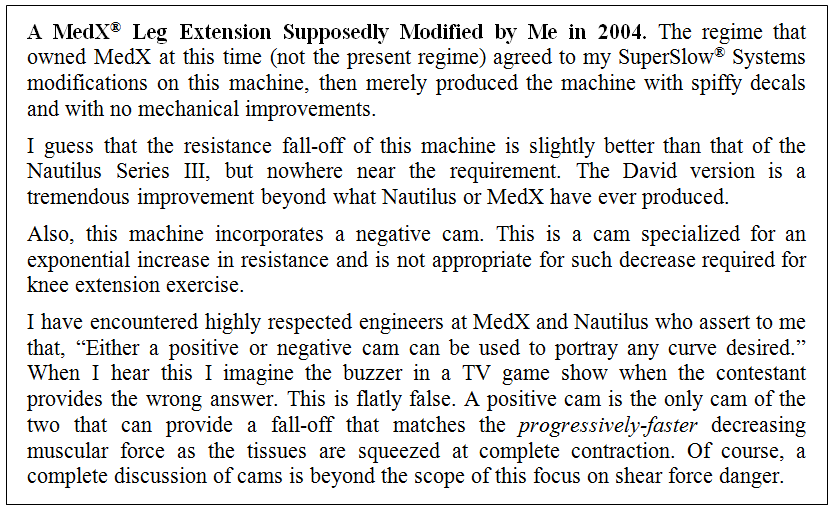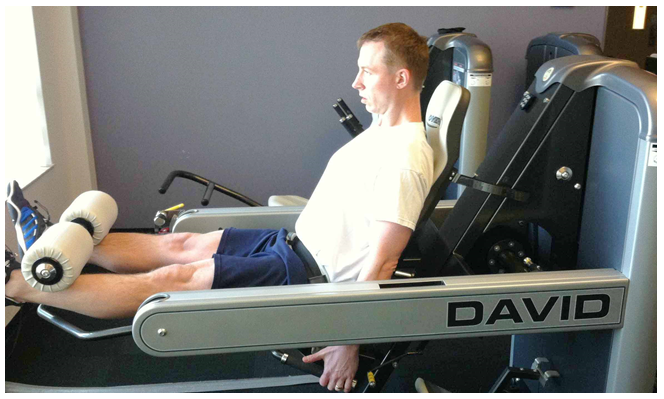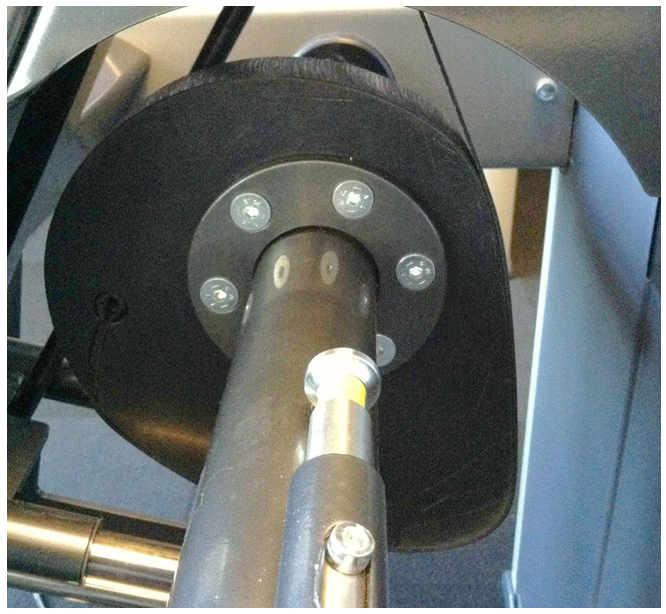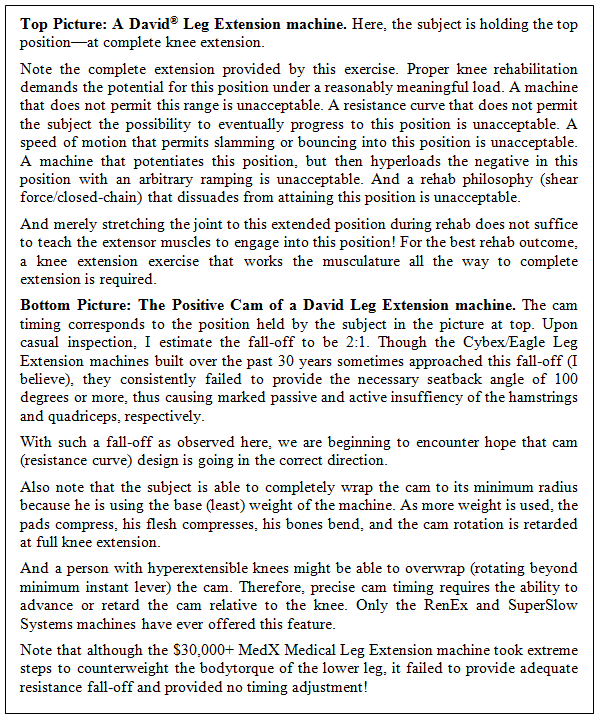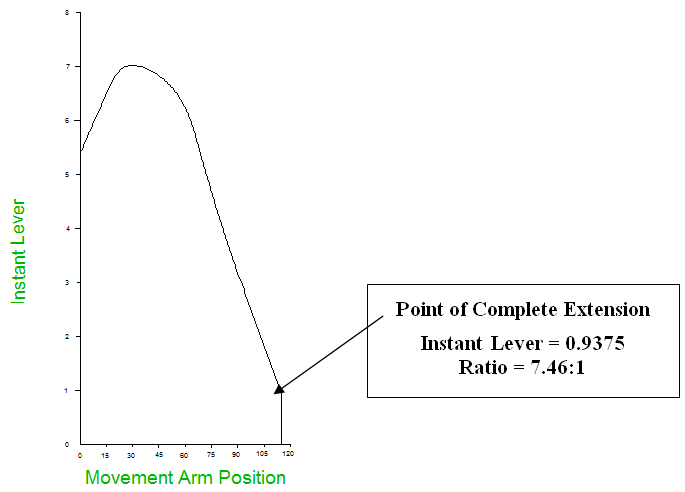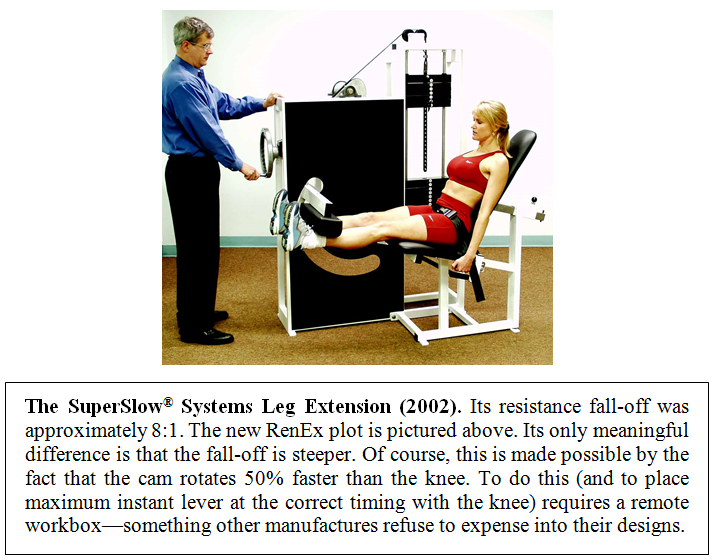 The X-Force Leg Extension (Leg Quadriceps)
Some readers will expect my assessment of the X-Force Leg Extension. I have not directly measured its instant levers, but I have seen photos and videos of its cam. I estimate that its fall-off is similar to the MedX and Nautilus Series III. So if my assessment is correct, and if the subject reaches the top of the positive, and is then dumped on with a 40% greater load, I consider this quite an egregious offense to the cruciates.
Refocusing the Purpose
Within the depth and scope of the foregoing information, it is easy to lose focus with the purpose of this presentation.
And although the depth and scope of this information is far greater than what anyone else has ever presented, I am not providing complete information herein to perform knee rehabilitation as we at RenEx will eventually do. Nor is my purpose with this information to teach cam design, cam takeoff measuring and plotting, friction analysis, or a host of additional and related subjects. To do justice to any of these topics requires much more detail.
The focus here is that the shear talkers warn of offensive force to the cruciates with a so-called open-chain exercise such as a knee extension device. And they scream alarm without knowing how the externally applied loads are changing relative to the knee's position. If the shear talkers are correct, it is an astronomical accident, not scientific method.
Assessing Cruciate Threat
I present the following table with some accurate load ratios due to changing instant lever. Some others denoted by "~" are my estimates.
My personal opinion as to their offensiveness (threat) to the cruciates is ranked in the column to the right. This ranking is on a scale of 0-10 with "0" as an indication of "no threat" and "10" as a "worst threat." On such a scale, "5" represents a "moderate threat."
"Threat" might be interpreted in several ways depending on the context. Obviously, such rankings are more serious when applied to subjects with knee derangements or those post-operatives. However, we should not ignore these rankings with respect to a normal knee.
I might ask, "How affected are my knees now due to their routine exercise on the Nautilus Super Leg Extension (SLE) 30 years ago?"
I might also pose, "And how do we appraise the SLE when Nautilus so successfully rehabilitated so many subjects—including Eric Soderholm—so far beyond the expectations of conventional physical therapy on such equipment?"
And as Doug McGuff, MD, has recently stated, "… However, kneecaps are not flying off around the country… "
Still, I don't want my knees or those of my associates and clients exposed to such unnecessary forces. And we have progressed forward with protocol as well as equipment design that widens the safety margin tremendously since our initial forays into this domain.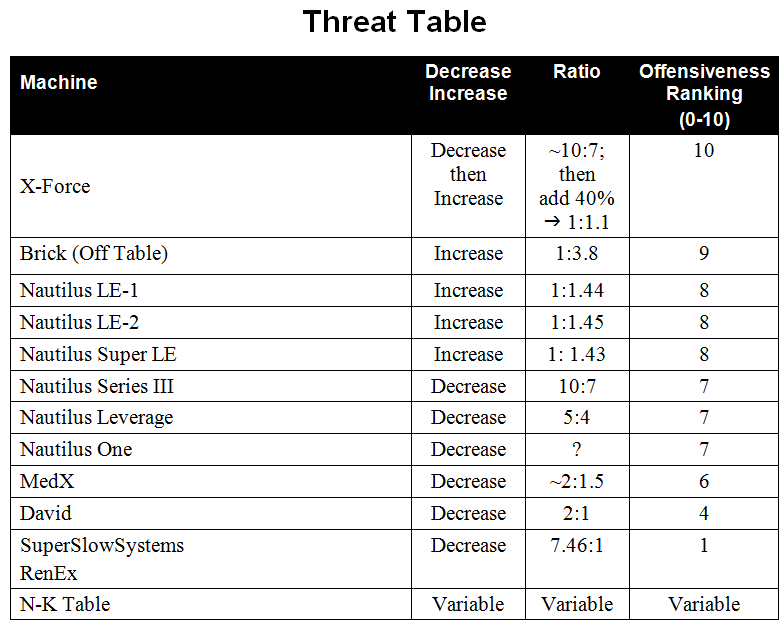 General Recommendations
I don't believe that there is any reason to question the usefulness of the knee extension exercise in most knee rehabilitation. In fact, I consider that the ideal approach to rehab after most knee surgeries is to place the RenEx Leg Extension next to the hospital bed so that that patient can forego much of the early the knee-setting and possess more precise range and load control. And it is ridiculous to crusade against knee extension exercise in almost any other application for general strengthening. And this applies equally to that feared last 15-30 degrees of extension.
I assert all this with the understanding that I demand a 10/10 protocol. Without such speed control, most of these comparisons, if not all, are moot. I declare that this protocol speed is the most fundamental aspect of all of biomechanics and without its adherence a conversation about much else is pointless.
For now, I merely give you the practical approach to sorting out when and when not to do either knee extension or leg press or both of these exercises. The rule is: If it hurts, don't do it.
There are many different conditions of the knee. And it is somewhat unusual to find a knee that is perfectly asymptomatic as a subject advances with age. Some of these conditions respond positively to both knee extension and leg press. Some respond somewhat negatively to one or the other.
Some conditions allow one or the other of the two exercises only if they are preceded by a lubrication procedure performed in a knee extension machine. This is merely a slow movement—at least with extension and sometimes with flexion—with a minimal load to slosh synovium around on the articular surfaces before performing serious exercise.
And the worst conditions respond negatively to both exercises under any conditions.
When faced with the worst response to either or both exercises, it is a challenge to find a workable way to load the musculatures. Fortunately, we have a host of options between the two exercises as we strive to avoid joint pain. They include but are not limited to pinning off for pain-free range of motion, lubrication procedures (already mentioned), static protocols with precise force feedback and recording at the magnitude of the slightest pain, and dynamic protocols utilizing perfectly timed loading. Our arsenal in this regard is vast especially when placed in the context of the mechanical controls we have with the RenEx equipment.
As stated many times over, the exact application of these techniques is far beyond the scope of a blog post, but I hope these few words provide an insight into the information explosion that is occurring within our ranks.
In Part IV, I will give the shear talkers a possible solution to their fears—the coupled movement arm. And as Arthur Jones—the king of bombast—might have said, "Just wait, we haven't unloaded the heavy ordinance on you yet. The big bombers are on the way!"