I received this from Dr. McGuff and thought I should share it with our community: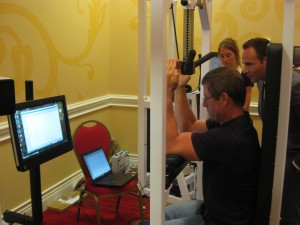 Josh,
I wanted to let you know how much I am looking forward to the RenEx conference in October.  After the last conference I felt like I had experienced a quantum leap in my own training because I had experienced a benchmark for an intrinsic approach to training.  The techniques I learned have been applied to UE clients with great success and the word-of-mouth response has resulted in an influx of new clients.
Since the last conference the RenEx team has certainly stirred up the hornet's nest within the HIT community.  While I feel this is certainly a less than optimal marketing strategy, it is certainly a way to potentially expedite discovery.  Only by drawing the ire of the best minds in your field can you hope to expose the weaknesses and inconsistencies of your own theory.  While this certainly has not made you popular, it has intensified the pressure to refine your own protocol.  Your willingness to do so is highlighted by your ability to entertain the idea that your relatively simple to produce static machines may potentially displace dynamic equipment that has taken 4 decades to refine. I am anxious to see what you have come up with.
Gradually, I have come to believe that the visible improvements in muscularity are only the tip of the iceberg when compared to the improvements which are not visible, but may be perhaps more important.  For those that are only interested in the visible changes, I suspect that these serve to mirror the unseen improvements, because the aesthetic improvements are biologic signals of health that underpin the science of attraction.  I hope that my contribution will serve to highlight both sides of this equation.
What I am most looking forward to is to see how the application your technology allows visible and extrinsic feedback of these invisible and intrinsic processes.  Perhaps such visible feedback can make us more capable of tapping the "alpha subject" within; bringing us that much closer to our true potential.   With 50 of us geeks in a room together, new insights may emerge and dead-ends may be exposed.  In any case, I am certain no one will leave unchanged.  
 See You in October!
 Doug
If you are on the fence and haven't registered then now is the time to jump off and RSVP. The early RSVP discount expires at midnight on Saturday, September 15, 2012. After that, the price goes up!
We have a few spots left and this is shaping up to be an amazing weekend so don't miss out.
RSVP today so you can surround yourself with great minds like Dr. Doug McGuff and the rest of the RenEx community!
RSVP NOW: www.renex2012.com