Mind-Muscle Disconnect
A Response to Doug McGuff, MD
By Joe Anderson
A recent article and intense discussion in the comments section of the RenEx blog over the last few weeks prompted the 12/23/12 blog post on Body By Science. If you have not already read it, please go here and check it out now.
Advancement in thought rarely occurs by digging up common ground, but rather, by seeking unfamiliar seeds of thought, cultivating them, and by their yield you can discern them. To get right to it, after considering Dr. McGuff's post, I find myself in disagreement and feel the divergent points are worth discussing further.
From the BBS blog:
Recently, the RenEx guys have posted some articles on the "mind-muscle connection".  I read this with some interest, as I have always assumed that this connection was important, but I have not always felt that I was good at it.  Also, I have watched many people train that I cannot imagine any sort of connection being at play, but they seemed to produce excellent results.  The assumption is that the "mind-muscle connection" is a pre-requisite for good results, but the evidence really is circumstantial at best. 
I think the first problem is Dr. McGuff's assumption, as it leads toward an erroneous view of the "evidence". For clarity's sake, the mind-muscle connection drives the exercise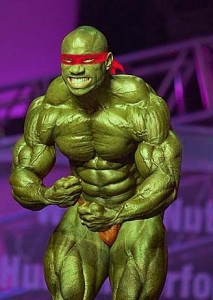 effect; it does not determine a result (adaptation is a multifactorial response). We strive toward improvement of the exercise delivery system; refinement of the experience toward a particular acute effect. Within a paradigm that relies on continuous tension for efficient and thorough fatigue, the mind-muscle connection is undeniably crucial. Whether or not it results in significant hypertrophy for a given individual does not factor into the equation at all. "Big muscles" may be found on a subject who exercises haphazardly or who does not exercise at all. This does not take away from the profit in a mind-muscle connection…it speaks loudly to the amazing plasticity of the tissues involved and the extreme variability in adaptive response.
But, I'm not interested in what is "possible", only what is best. We learn more from those at the opposite end of the bell curve. What is undeniably required for these lesser responders
is merely an amplified view of how to improve the experience for the greater responders. Things that may not appear "required" for the greater responders cannot, however, be assumed unimportant for the lesser responders. Doug acknowledges this later in the article: "This is not to say that I think the mind-muscle connection is unimportant; I believe it is very important and that the less gifted you are, the more you will need to call upon it." 
Further, hypertrophy is not the only desirable "result", so using it, solely, as evidence of anything is short-sighted at best. These faulty assumptions lead to an examination of the wrong things when searching for supporting evidence.
McGuff continues:

The discussion that ensued made reference to a YouTube video of Kai Greene referencing the mind-muscle connection and trying to teach it to a less-advanced bodybuilder who Kai feels has not made that connection (but still has way more muscle than most of the participants on the discussion boards).  This led me to watch several other videos of Kai Greene training, and frankly I cannot imagine that he is making any sort of connection that remotely approaches what the RenEx guys are talking about.  The most revealing video was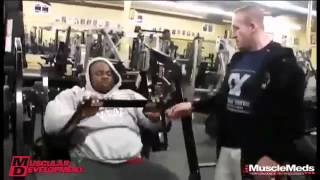 one where Dorian Yates was trying to take Kai Greene through his high intensity chest and back routine.  It was evident there that Kai was almost unteachable and was almost unable to use techniques and positioning that Dorian used to create peak loading and intense contractions.
With all due respect, I don't think Dr. McGuff understands what he's observing. A good bodybuilder (and Kai falls into this category) is extremely astute with exercise performance.  Their "behavior" is a product of their intent…an intent that is driven by the mind-muscle connection and biofeedback (feel, pump, etc.).  Their speed of motion, range of motion and body positioning are the result of trying to keep tension on the target muscles with the tool in hand; they are effectively "camming" the exercise on the fly. I submit to the good doctor that this is the ultimate expression of the mind-muscle connection within a bodybuilding paradigm using conventional equipment.
Additionally, the criticism of Kai in the Dorian Yates videos is misplaced. This is not evidence of Kai being unteachable; this is evidence of Dorian's inability to instruct exercise effectively. I'm willing to extend the benefit of the doubt to Dorian, as it is possible he was doing this intentionally for the film. However, I think those videos are superb teaching tools for new Exercise Instructors…of what not to do.  He has absolutely no clue "how" to get Kai to do what he wants, he has absolutely no way to objectively determine if Kai is being appropriately effected by the exercise, he doesn't seem to know why Kai is behaving differently than his "instruction" or how to communicate an effective correction. An instructor that talks that much either feels inadequate in his instruction or has an inadequate system of delivering exercise.  At this point, the "instructor" only serves to disrupt the necessary flow of communication between mind and muscle, which is painfully evident on the videos.
You have a subject, Kai, who is accustomed to and adept at training intuitively, by feel. Then you have Dorian attempting to teach body positions and cadence toward creating peak loading and intense contractions, with no way to control and evaluate. This causes the subject to become frustrated because the exercise doesn't "feel" right, so he begins to revert to his expertise. This, in turn, frustrates the instructor, who lacks the ability to fix the situation, and instead tries to talk around the problem. What results is an absence of exercise. Amazingly, with all of the talking, Dorian excluded the one piece of info that would have helped- he never established a clear intent. Without a target, what is the subject to aim for?  Without a target, how does one distinguish a miss from a hit? No wonder everyone was frustrated. The whole scene is absolutely ridiculous.
Those videos expose the glaring need for all the things Renaissance Exercise has discussed; the environment, the technology, the protocol, the instruction.  In the absence of a true system that adequately controls the exercise experience and provides a specific intent and objective feedback to the exercising subject, the "trainer" is actually a hindrance to the process.  Individuals who can, would be better off learning to guide their own training by feel.  Those who can't (and there are many) are the target market for anyone opening a studio to deliver Renaissance Exercise.

The Renaissance of Exercise is an ongoing journey toward leveling the playing field for exercising subjects, allowing for an experience that is not only on par with more capable subjects, but also simplistically-repeatable and measurably progressive. Regarding the needfor mind-muscle connection, Dr. McGuff noted that, "We have to rely on someone's subjective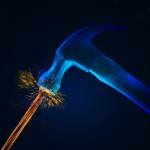 assessment that they indeed have such a connection."  No, we don't. Renaissance Exercise absolves the exercising subject of the responsibility to make such assessments; the system accounts for this by providing solutions that deliver objective feedback that is effectively communicated and precise cueing is available as needed. Renaissance Exercise removes the doubt and hones in the accuracy at "driving in the nail with one strike".