Negative Thoughts: If Only It Were So Easy (Part 3)
by General Tso
Do you really think it's as easy as comparing going fast versus going slow?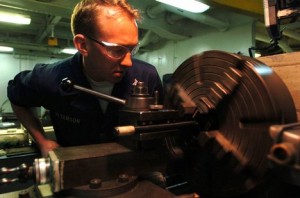 I wish it were, it would have saved me 5 years of building and "un" building.
Let me save some of you some typing. 
I don't care if you don't have the equipment, time money etc. 
Neither did I.  
This isn't a hobby, it's a life's work and I'd require 100 years to study everything I want to investigate.  Developing the tools (no motors please) requires as much time in the week as earning a living. 
My advice is to pay someone and get on their equipment. 
Good equipment does nothing more than get out of your way, period. 
Control variables, take the equipment variable and get it out of your way so you are not inhibited by noise.  I don't care how you train, but try and work harder on your own experiments. 
It's somewhat like training. 
Most people will not sacrifice (time, money, effort, mistakes) enough to get the returns.  Some don't care, and that's fine.  Book a trip-but don't come visit me, ok?
This may sound blasphemes but it is my contention negative strength is depleted to a much larger degree using proper equipment and exacting protocols than most realize.
What do I base this on?
Not much, the tools don't exist-yet. 
Static testing became the focus of the only real tools.  
Consider the following that occurs on many exercises. 
During the first repetition the positive requires greater effort than the negative.  That's why competent instructors don't allow their clients to lift in 10 seconds and lower in, say 15 seconds, especially during the initial reps. 
The second rep, the ratio of effort narrows. The negative becomes more productive (intense). 
The third rep the effort ratio narrows further.  If I fail to produce positive movement on my next rep, and I continue to attempt to move in a positive direction, I quickly encounter a situation where my holding strength "gives out" and I am forced to use every ounce of remaining strength to control the negative, with effort easily equal to or greater than the positive effort that was occurring when I reached failure.  With this level of inroad fatigue overcomes congestion.
Note that the above situation I have described is not dangerous when employed using slow protocols and proper supervision.  If it were, I would install braking systems into my machines.
Instead, it feels somewhat similar to the last repetition of a set of a negative only exercise.  Keep in mind that while it feels somewhat similar to the negative only criteria for termination of a set, I've achieved this situation with less resistance (not more) than a negative only set required. 
Furthermore, it is logical that using all available negative strength to control the weights descent with less starting resistance I have conceivably inroaded to a much larger extent than negative only protocols can achieve.  
Several "authorities" on the net have stated that such a situation is "more dangerous" than adding 40% to the negative, and have further stated that the culprit is the radical resistance curves employed in some machines.
I have no interest in 40% negative accentuated equipment and therefore cannot responsibly comment on its utility (a responsibility too many people shun when commenting on things they do not understand). 
I may test the use of motors at a later time. My only impression is that the subject's motor ability is probably "overrun" but I can't prove it –not yet. 
Maybe they are the way to go?  Doubt it, but it could be a part of the puzzle and I applaud the efforts.  Nevertheless, please understand that being around something does not equal mastery or even understanding of the material. 
Read a history book. Perhaps the knowledge seems vast but only to the uninitiated. This happens frequently by those who endorse equipment but have never built anything.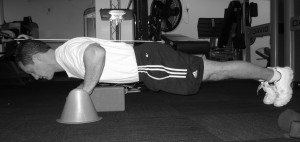 Nevertheless this fellow should take note that I've achieved this level of fatigue (and so have many others) in the performance of a push up. 
To better understand inroad, let's look at the classically used example. 
We take into account that this model is used to teach novices a basic objective of exercise.  Suppose a subject is capable of lifting a weight of 100lbs for one complete repetition and cannot perform a second.  Their fresh strength is then 100 lbs. We then select a resistance of 80 lbs and perform consecutive repetitions to the point where positive volitional movement in a positive (concentric) manner is impossible.  This is often termed as "muscular failure".
Where the subject could once perform a repetition with 100lbs he can no longer perform a repetition with 80 lbs.  The set of repetitions that he performed diminished his strength from a starting strength of 100lbs to an ending strength of 80lbs or 20 percent. Hence, he has inroaded his starting strength 20 percent or perhaps with continued effort, to a somewhat greater degree.
Keep in mind that the inroad model is used to illustrate a concept to novices-or people who are intellectual novices and are unaware of this fact.
Simply failing under a given weight, say perhaps 20% less of what you are capable of lifting once, does not take into account what the cam's instant lever (moment arm) was when you failed. Forgetting the leverage factors introduced by the body, we don't train on round wheels, we train on cams.

Also we don't, or shouldn't, fail in the same place every time. A whole paper could be written on the problems with this model, but suffice to say let's use it to illustrate a point and don't quote it as scripture.
Remember that we can't avoid congestion altogether. However, and this has been proven to my satisfaction, moving slowly allows for longer continued movement than faster movement does, from a muscular efficiency standpoint.  Reference Jones's more popular/later Lumbar Spine book under No Contradiction. 
Quote: "Earlier, we mentioned that slowing the initial speed of movement may permit you to perform one or two more repetitions by reducing muscular friction…later, we said that less repetitions are possible with a slow speed of movement, an apparent contradiction."
"But in fact both statements are correct; current knowledge and technology do not permit meaningful measurement of metabolic work, and trying to do so with measurements of mechanical work is meaningless;."
Someone who is actually thinking might conclude that our sets last longer because we use less resistance. 
This is incorrect. 
We use very heavy weights; our sets last longer because the slow movement drastically reduces the congestion problem.  How else did we inroad deeper if our resistance levels were lower? 
Therefore, "less repetitions are possible" is true but "slowing the initial speed of movement" allows the latter to trump the former. You get a longer TUL but deeper inroad.
How can I assert this? 
Maybe because our weights are heavy, very close or equal to 2/4, but our speed is approximately 5 times slower on the positive and 2.5 times slower on the negative.
It isn't friction gentlemen, but whatever the hell it is; it affects us less by using slower protocols.
Comparing when you get stuck going fast versus going slow screams that you don't understand the salient factors involved. 
Most guys who try and compare protocols don't understand that reaching failure and inroading deeply are not the same.
They can't measure true inroad, so they assume fast failure equals higher intensity and more efficient inroad.
Wrong.
This is another reason why TULs are a poor choice for measuring performance. Forget them, or at least use them within their limitations and stop assuming they are an absolute marker of inroad or performance.  They are not a new standard of anything-only a tool that can be used under very controlled conditions to enable us to study certain specific effects.