Negative Thoughts: Time Well Spent (Part 2)
by General Tso
I hear this argument constantly.
"I failed under a load using a faster protocol at a lower /higher/same weight. Therefore…"
Perhaps you did. 
But perhaps the resistance your muscles encountered was so inappropriate that they failed not because of profound inroad but instead because the resistance in a given position was too heavy.  This is a much larger problem when training slowly because momentum doesn't carry you over the sticking points. Now we take this conclusion and run with it. 
Faster = better. 
NO, look closer. We're working on understanding this better.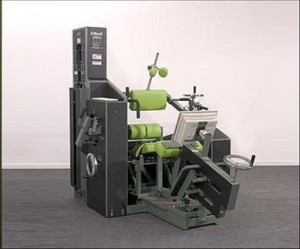 What should be considered and investigated is what the musculature encountered with regards to the quality of resistance.  Many years ago, Robert Francis had access to a Medx lumbar extension machine.  He noted that subjects moving at slower protocol speeds tended to inroad 15 to 20 percent deeper than those exercising at faster protocols. 
He further noted that it took an additional 30 seconds to reach positive muscular failure.  He referred to this extra time as "time well spent." 
I agree.
Further it should be understood that slower exercise protocols allow the musculature to be less affected by the byproducts of fatigue and thus allows for increased time under load or positive movement against resistance.  Keep in mind that this testing was conducted on a 1.4 cam suitable for a variety of protocols, (a rarity) and the slower protocol produced a 20% deeper inroad. 
Now, imagine what comparing a cam designed for slow protocols could do under ideal conditions. 
I intend to find out soon.
And for anyone really paying attention, consider how "off" your comparison of protocols are when attempting to compare slow protocols on cams that are mathematically incorrect and designed for
faster protocols.  This makes a bad situation worse, and truly not worth delving into in the first place, let alone posting your results and leading others down a dead end street. 
It's "Intensity of circumstance" if you will. 
Cams are damn complex things when you get beyond the basics. 
I'm not talking about designing them; I'm talking about their effects on the muscles.  How do they change the muscles "environment".  You can build them to provide too much fall-away, just as much as too little.  Regardless, where you end up at the termination of the set is affected drastically by the manner in which the muscles receive the resistance in the first place.
 Hell, add an adjustable hard end stop to a movement arm and "squeeze" against it.
The effects are profound. 
Sometimes it's so profound you have to change the cam altogether.  All you did was change one criteria.  Make the resistance linear, exponential, and logarithmic and you change the intensity of circumstance again.  These are known variables that you are manipulating. 
Do you really think it's as easy as comparing going fast versus going slow?