Ray Dickerson, a field engineer based in Ohio, celebrated his 10-year anniversary with Varian in October. Last month he competed in the NPC Natural Northern USA Bodybuilding competition, which raised $4,000 for the American Cancer Society.
"Working for a company whose goal is to fight against cancer and save 100,000 more lives every year, I am proud to have participated in an event that supports that goal," said Dickerson.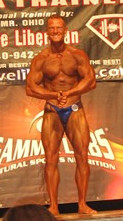 Dickerson's passion for bodybuilding started when he was 16 years old.  In 1981, 
he entered his first bodybuilding competition in the U.S. Navy. He competed through 1993, winning the 1992 title of Mr. Ohio in the Mr. Natural Ohio Bodybuilding Championships. In 1993, he competed in the Mr. Natural USA competition.
Ray's training regimen involved a special customized training program from the Overload Training Center in Beachwood, Ohio. This method incorporates very slow repetition speeds in comparison to the traditional resistance training methods. The emphasis is on minimizing acceleration to reduce the force on the body during exercise, and to improve muscular loading. Typically, these workouts take far less time, lasting about 20-40 minutes, and consist of one set of each exercise that is carried out to complete muscle fatigue.
"Managing my diet is the absolute hardest part about training," said Dickerson. He started out his diet by cutting out the most obvious: sugar and fat, and replaced them with good "clean" food. By keeping track of his nutritional intake, he was able to achieve and regulate his weight loss gradually without sacrificing any muscle.
After a 19 year layoff from the sport due to other responsibilities, and a changing physique due to poor diet choices; Ray decided to get back into bodybuilding. With the support of his wife and his four children, he set a goal to compete in the NPC Natural Northern USA Bodybuilding competition. His hard work and dedication have truly paid off. Ray weighed in at 176 pounds the day of the show in September, having dropped a total of 55 pounds since the previous March. He placed 9th in the Masters division and 7th in the middleweights.
"The competition itself was tough, but the experience was very positive and encouraging," he said. "It was a great feeling being able to get back into shape and actually stand on a stage to compete against, and place higher than younger athletes. The insight gained through setting this goal for myself has helped me relearn how to take control of my body and maintain my health and fitness level. Bottom line… if you really want it, you will find a way."