Question From the Audience:
When Arthur Jones tested people throughout their range of motion after the development of MEDX he found that only about 20% of the people who exercised through a partial range of motion had gains through the full range of motion. Therefore, the argument for static exercise as an ultimate exercise is moot for the general population. Why the revision of static exercise? What do you know that I do not?
To begin with, it should be noted that the RenEx position on TSC exercise is not conclusive with respect to a stand-alone program for total body fitness. We have some ideas about what we believe is possible but at this stage we do not suggest that TSC should replace dynamic exercise except in those cases for whom TSC is the only possible option.
We have been very impressed with the results of TSC as viable technique that can be used in addition to dynamic, as a rehabilitation technique, as a pre-exhaust mechanism, and even (for some) in whole body workouts but we still have ways to go before declaring any broad generalizations.
What we do know is that TSC is very safe and very productive. Our collective experience in the RenEx team is that it is the most promising development in the field of strength exercise to date. TSC permits us to instruct exercises that ordinarily rank as unsafe. It helps us teach proper protocol. It helps subjects connect their neurologically inefficient muscles to their minds so that they can recognize which structures they are attending to. It helps circumvent joint debilities and derangements. And, it can exist in its own right as a powerful independent technique for muscular stimulation.
The type S and G curves that you reference from MedX have been the subject of much debate and consideration. It may very well be true that specific vs general adaptations can occur from one subject to the next when considering aspects of exercise such as range of motion. Exercising in a partial range may indeed promote strength increases only in the trained ROMs in some while presenting increases in the full ROMs in others. But before we concede this it is important to consider the methods used to arrive the conclusions that MedX did.
Because the standards of loading with Medx are borrowed essentially from the nautilus model, it is our contention that the gauge for set volume was not only low but also highly inconsistent. At the suggested 4/4 cadence (though better than 2/4), regardless of range of motion, the subject is moving too quickly to expose the structures to the kind of loading that could indeed reflect adaptive variations due to ROM. Stated simply, a 4/4 protocol is not remotely controlled enough to conduct such an experiment validly.
In TSC exercise, the loading sequence and timing is strictly enforced with a "no escape" modality that encourages a continuous and effective loading of the structures. The effect is so potent that our contention is that eventually, regardless of position, the majority of the structure will become involved, if not fatigued and inroaded. This can be easily felt during an advanced TSC workout.
Of course, such an advanced workout requires significant experience and practice and is remarkably uncomfortable, even to the extent of promoting sensations of deep muscular damage during the performance of the set. But the effect of such effort is an unmistakable depth of loading that leaves little doubt as to the totality of work performed by the target structures.
In my own practice, I have worked with feeble subjects that couldn't perform dynamic exercise (pulldown) because of pain in the elbows as well as overall weakness. But after one year of consistent TSC pullover/pulldown exercise, the subject was able to adapt to full range dynamic PD with zero pain and a rapid progression to resistance values that would ordinarily have taken many more weeks, by my experience.  In the case of one male who couldn't perform 6 repetitions with #60 in his first attempts on the dynamic machine, i was able to progress him to #135 over the course of 4 weeks after having done only static exercise prior to this for 9 months. This is a remarkable achievement and directly flies in the face of the type S and G theory.
Of course, this subject could have been considered a type G subject but we are seeing this sort of thing in larger numbers and across a broader and broader spectrum of subjects making it far more likely that even S type subjects are going to respond the same way.
In a related ongoing anecdotal experiment, I have started many of my clients on the Renex Trunk Extension after having worked on the MedX lumbar machine for (in some cases) years. The maximum range of motion in the MedX is 72 degrees although in Renex protocol we never have gone past 50 degrees because of compression force concerns in the flexed position. The RenEx machine can provide a range of motion of over 135 degrees. Most of my subjects have easily been able to adapt to the increased range of the new machine. In many cases, subjects are achieving 120, 125 and even 130 degrees of range with ever increasing weights. Of course,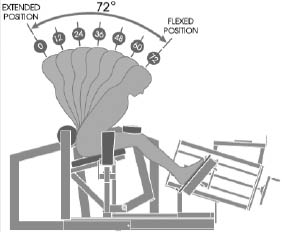 in the beginning of such a change I am deliberately being conservative with range of motion and even more so with weights but it hasn't taken some clients long to achieve comparable statistics in the new machine and with a dramatic new range of motion to boot.
With all of this said, there is one more thing to consider. It is very challenging to distinguish between the effects of skill acquisition and strength, particularly early in a program. In fact, that line is most blurred during a critical period of growth during intermediate levels of exercise in a give routine. A subject improves in a relatively non-linear way in terms of his capacity for ROM, total resistance, and the demonstration of endurance within a given protocol. What improves over a given time frame includes many aspects including motivation, strength, skill, nervous system communication, cardiorespiratory improvements and many more.
After enough time has passed within a given paradigm of exercise, the subject will "top out" aspects such as skill, and neurological learning. Even motivation will reach a pinnacle. Eventually, the only thing that will permit any demonstrable statistical improvement is what we might call strength.
Since it may take a considerable amount of time to achieve  the state of increasing "strength", perhaps the assignation of type S and G curves is moot.  What if a type S subject just needs a handful of brief workouts in his previously untrained ROM to then demonstrate equal strength in that ROM a very short time later?
In the end, this and other questions might be better answered as we delve deeper into TSC and the future of exercise.
If you haven't picked up your copy of The Future of Exercise Event DVDs, do so here!