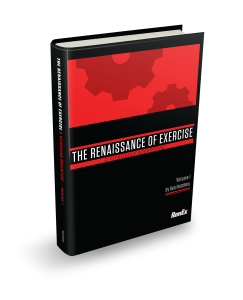 We have had a lot of buzz about the release of The Renaissance of Exercise: A Vitruvian Adventure, which we released last week.
In fact, many people are raving about the value and content of the FREE bonuses.
Steve Scott said, "The talk on registering performance is incredible".
With all of the great feedback and comments about the textbook we wanted to give you a behind the scenes look to what went into the creation of the textbook and the evolution of RenEx.
Therefore, Ken and the RenEx Team have agreed to do a LIVE FREE HIGH CONTENT TRAINING Teleseminar this Wednesday, December 21, 2011.
Ken and the team will also be discussing some new innovations in the protocol that you can only hear about on this call!
This is one call you won't want to miss.
REGISTER NOW and you will be emailed this Wednesday's call-in time and details.  Only 500 callers will be able to join so register RIGHT NOW to receive your dial-in number and call time. To register for FREE enter your details here:

*Your contact information is safe an will NEVER be shared, sold or spammed*
We look forward to speaking with you on Wednesday!
Josh
P.S. Don't miss this one time HIGH CONTENT call, which will allow you to immediately take what you learn and put it into action.  So don't miss out!  REGISTER ABOVE!
P.P.S. If you are interested in ordering your copy of The Renaissance of Exercise: A Vitruvian Adventure be sure to do so before Friday as we are shutting it down to service those who have already ordered.  We only have a limited number of books and when they are gone they are gone. Don't get left out!