Our primary teaching tool for learning this method is the Leg Press.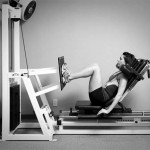 We use this tool because it is relatively easy to learn and it is perhaps the most productive exercise in a program.  If taught with great detail it will provide the ground work for more difficult exercises.
I have literally built my business with this tool and I don't think an instructor or therapist should be without it. (In another article I would like to discuss the other functions of this machine, as it has become a multi-purpose tool.)
With that being said, it makes sense to use this exercise to illustrate performance objectives.  So far I have noticed that video does not necessarily give the same appearance as it does in person.  Gus Diamantopoulos used to work and study film production and he has given me some ideas on how we can enhance the visual impact of these demonstrations.  I have not been able to shoot any video with these recommendations yet, but I do think we will be able to better demonstrate as we learn.
In the meantime I wanted to show another Leg Press video. This video may give you some ideas of what to look for and show you how the set can evolve with proper instruction.
Two points I would like to make:
I would NOT be able to perform at this level (load and quality) without instruction and without feedback.
I do not believe training with a single set done to failure is productive unless it is done this way.
Below is commentary I posted last week regarding Al's Leg Press video, which lead up to this blog post:
"In the Leg Press video Al is applying force, as gradual as possible, to engage the load. Assuming one is making an effort to eliminate all of the stored energy on the turn around; an advanced subject will be working near peak efforts by the third rep.
I actually shot some video of this same exercise yesterday.  By the third, fourth and fifth reps you witness me struggling to do what I can, in order to prevent the tempo from slowing down even more.  By this point, it is evident that the performance has NOTHING to do with trying to go slow – it is me trying to hurry up so I don't bog down even more.
Man, I have to get that video up, I'll do that Monday. Great illustration if you know what to look for."
A couple of interesting points that might be difficult to see with the frame of the video:
I did not complete the entire positive excursion of the last rep (the 5th rep).  I actually reached failure when my knees are nearly straight.  In spite of my best efforts, and Al's instruction, I could not complete the last one inch of the allowed R.O.M. This is very rare as it is expected that we would be exceptionally stronger as our knees get straighter and as our levers become more effective.  This is the only exercise that I've ever done where I fail in that part of the R.O.M.(Interesting side bar: Nautilus went to great lengths with their Negative Cam in the Duo Squat machine to attempt to produce the effect I'm getting here.) The final negative becomes an all out war to keep it from running away.  When you perform exercise this way you will immediately understand that machines that hyper-load the negative are not only unnecessary, but also counterproductive and extremely dangerous.  This becomes very clear the first time you experience this level of fatigue without any opportunity for respite. Hyper-loading the negative is attempted to cover up poor cam effect, friction, and momentous performance.  There is much more to say about this subject for another post.
It may or may not be obvious that with the gradual application of force and the magnitude of the load there, but there is about a six second delay between the time when I start to push (note that the breath sounds correlate to the application of force) and when I overcome the weight stack and the sled begins to move.  Renaissance Exercise promotes maximum efforts, but force application should be as gradual as possible.  As fatigue sets in you will be pushing as hard and as fast as you can in order to stay in the running.
As always, please share your thoughts and comments below and we will personally address them!