So, this continues to be a fun little series of blogs.  Like I said, I find these SuperSlow experiments interesting and motivating, especially in a time where I now believe muscular growth can happen much faster than I even thought before.
I will continue to post people's experiences from the past and in the end provide what I think is the best way to integrate a  system of training that includes some from the past with what we've learned since.
– Josh
————————————————————————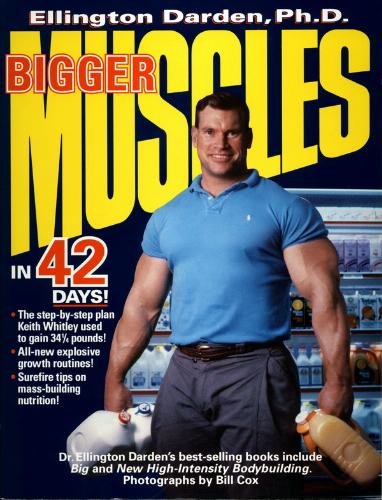 A few excerpts from Ellington Darden's, "Bigger Muscles in 42 Days!"
Effective overload best occurs when the positive or lifting phase of each repetition is performed in 10 seconds.  The negative or lowering phase is done in 5 seconds.
– Work between 4 and 8 repetitions.  When 8 or more repetitions are done in good form, add 5 percent more resistance at the next workout.
– Perform each repetition in the SuperSlow style.  Lift the weight slowly in 10 seconds.  Lower the weight smoothly in 5 seconds.
– Keep your workouts brief.
In other words, each repetition should take at least 15 seconds.
Such style of training is called SuperSlow.
SuperSlow training is the most efficient way to stimulate your muscles to grow larger and stronger.  It's the best way to get bigger.
Why is SuperSlow training better than faster styles of lifting?  Because it eliminates most of the momentum from each repetition.  Eliminating the momentum better isolates the involved muscles and makes the exercise harder.
Remember, the harder and the more targeted the exercise is, the better.
SuperSlow Techniques
Pretend that you are preforming leg extension.  You complete four repetitions and begin a fifth.
You sense that your speed is bogging down.  You remain determined to maintain uniform speed.  However, the speed grows slower as you become weaker.
Realize that as your musculature becomes weaker, it becomes feeble.  Often is can still lift the movement arm, but only very slowly.  Such slow movement and muscle feebleness dull sense of position and movement.
Even though you are moving, you do not perceive it.  You must actively sense or feel to detect movement.
Deliberately refuse to accept the idea that you are no longer moving  Believe in it.  Have the mind-set that even though the muscle is incapable, I'm going to complete the movement anyway!
In many cases, upward movement will continue and you'll complete the repetition.  Give it time.  Whittle on it.  The repetition may require 30 seconds to finish.
Once the repetition completes, smoothly lower in and try another.
Never, never give up if additional positive movement is possible.  And then stop only after you've spent another 10 to 15 seconds trying for an extra fraction of an inch.
These helpful hints above were paraphrased from Ken Hutchins' revised book, SuperSlow: The Ultimate Exercise Protocol, which I highly recommend.  Ken has supervised over 10,000 SuperSlow workouts, and no one understands the philosophy and techniques better than he does.
SuperSlow Cats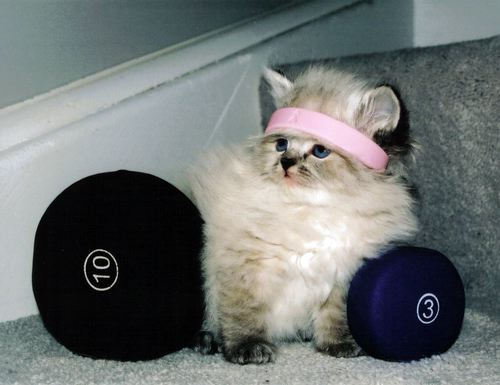 Dr. Bill Gonyea has lifted weights for 30 years.  He also is professor and chairman of the department of anatomy at the University of Texas Southwestern Medical Center at Dallas.  For many years he has worked with medical students who are interested in exercise and muscle enlargement.
Recently, Dr. Gonyea reported the results of a six-year study with cats.  The study was published in the Journal of Applied Sport Science Research (3:85-92, 1989).  The findings will interest you.
Sixty-two cats were operantly conditioned, using a food reward, to lift weights with their right forelimb by performing a wrist flexion exercise.  The cats reached through a tunnel in one side of the clear plastic enclosure and grasped a bar, which was attached to weights via a cable and pulley system.  The cats then flexed their wrists against the bar, which lifted the weights.
The cats trained once a day, five days per week.  All the cats began training lifting 100 grams.  The weight was increased as the cats progressed.  When a cat failed to make progress after a predetermined period, the muscles of the right and left forelimbs were removed and weighed.
The cats were not forced to perform by punishment.  Thus, the intensity and speed of training was dependent upon each cat's personality and motivation for food.  This in turn resulted in a broad range of performance values and muscle mass increases, which was accounted for with appropriate statistical analyses.
These statistical analyses revealed the following conclusions:
– The cats that eventually trained with the heaviest weights developed larger muscle masses in their exercised forelimbs compared to those that employed lighter weights.
– The cats that used slower lifting speeds developed larger muscles than those using faster lifting speeds.
– In the final analysis, the slower and heavier the lifting, the greater was the muscle mass increase.
Dr. Gonyea is convinced that bodybuilders can learn something from his study with cats.  Bodybuilders should understand that lifting heavy weights slowly is the best way to increase the muscular size of a cat.  And it is also the best way, he believes, to increase the muscular size of a human.
Of course you should already know this by now, right?
Muscle and Fat
Keith Whitley finished the program weighing 280.3 pounds, which was up 34.3 pounds from his starting body weight of 246.  His average weight gain was 5.7 pounds a week.