Introducing the Pull Down by

Here at Renaissance Exercise, our values and philosophy flow through everything we do to ensure that we remain true to our principles.
Through our partnership we have tried to set our very own high demands.
Whether we are expanding protocol theories or solving complex engineering challenges, we always actively seek to expand boundaries and are committed to continual improvement.
The essential element of our philosophy originated years ago when Ken Hutchins  said, "In the beginning, I couldn't find machines that truly satisfied the necessary requirements appropriate to perform the protocol so I decided to build them myself".
At Renaissance Exercise this has become a key principle that represents our primary motivation for always giving our very best.
Hutchins' original Pull Down machine was a visual marvel that struck a chord with strength training enthusiasts everywhere because of how it addressed many of the problems associated with conventional machines.
The anterior motion was kinder to elbows and shoulders and the box handle permitted natural trunk flexion without impediment.
Here finally, was a machine that enabled remarkable performance that involved more muscular structures than any other Pull down-type machine.
In addition to working the muscles around the elbow, glenohumeral and scapulothoracic joints in the shoulder girdle, Ken's Pull Down also involved virtually the entire ventral musculature.
With the all-new Pull Down machine by RenEx Equipment, our ambitions were high: Make an already great machine even better.
As always we have Ken to thank for our success in reaching that goal.
Featuring a dramatic new silhouette and a host of innovations and upgrades, the new Pull Down indeed raises the bar yet again making it the most important upper body exercise.
Immediately, the first thing you'll notice is the inspired new seating assembly, complete with a fully adjustable seat, back pad, and seat belt.
Without the need for a leg restraint the instructor can now have virtually any subject use this machine, regardless of lower-body complications or debilities.
Then there's the new handle.
A simple but ingenious feat of engineering brings a compact design with handles set at a proprietary angle that promotes improved grip, is kinder to wrists, helps reduce elbow issues, and enhances the ability to perform trunk flexion.
Additionally, we've preserved the option to administer the use of hooks, when needed.
The new handle, seating assembly, and micro-adjustable range delimiter all coalesce to enable the user to properly engage in a productive 'coupling effect' that truly accentuates performance of all aspects of pull down exercise and with greater safety.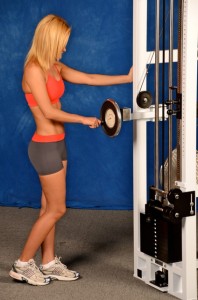 To help individualize such performance, a timing crank now provides infinitely personalized cam profiles to each user depending on arm and torso length.
And both cam and drive wheel have been re-engineered from solid aluminum to provide increased stiffness at higher loads, not to mention an even more dynamic appearance.
As with the other machines in the RenEx line, the Pull Down machine possesses the full complement of the new standard upgrades.
Resistance is delivered via the patented UltraGlide® top plate and pin-indexed, auto-aligning Freedom Stack® which floats on robust one-inch guide rods for a luxurious feeling of lifting 'heavy air'.
To make increases on the precision-cut 20lb. plates, incremental add-on weights are harmoniously integrated into the top plate and body frame for maximum operational efficiency and a streamlined look.
Of course, all of the remaining hardware is custom crafted to exquisite fit and finish.
The new Pull Down offers incomparable comfort, safety and performance innovations that once again exemplify the Renaissance Exercise mandate for progress and evolution in sophisticated exercise equipment.
We are truly excited to continue to share our latest innovations with you.
Please let us know your thoughts in the comments section below.
And keep an eye on your inbox for more innovations from RenEx!
Not on our list?
No worries.
Just fill out your contact information below and be the first to receive the latest updates from RenEx plus get Ken Hutchins' Vintage Nautilus Equipment Subprotocols.