On March 9th Steven Smith tagged Josh in a post on Facebook… I believe you'll find this interesting…

Thank you Joshua Trentine for all of your promotion of super slow training.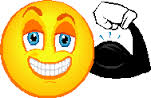 Since starting a month ago, I have already lost an inch on my waist, while adding .5 inches to my shoulder girth. I decreased my workouts from 3x per week to 2x per week and feel well rested and restored, whereas before I felt fatigued almost all of the time.
As I learn more about human physiology, I keep learning how damaging CNS burnout is to the body. I feel very strongly that keeping from CNS burnout or injury is the key to any successful program. The fact that you are able to sustain training and keep from injury is reason enough.
http://www.webmd.com/men/features/want-more-strength-slow-down
Steven plans on giving us after pictures – we can't wait to see them!