In light of our recent workshop and the public unveiling of the new RenEx equipment line, I have been receiving a lot of inquires as to what actual improvements this new technology will net.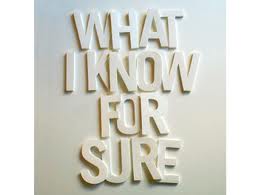 The scope of these inquiries is pretty broad but in summation amount to the question, "How can you prove that this new line of machines will produce a better response (response in all of its various meanings)?" Fair enough I say and the simple answer to that question is, "I can't". I can't prove anything as of this moment and am willing to humbly bow to those who can provide answers.
I'm not going to hold my breath though as I know there are those who are hard at work trying to answer questions only to find that the answer received is yet more questions. The answers always seem to reveal what something is not.  Some are bothered by that, I'm not. I find questions to be tools that focus one's perceptual awareness of what lays in front of them and as a consequence are ends in and of themselves.
I'm not going to pretend that I'm the one investigating all of these yet unanswered questions (although I ask them), so one may ask why I would even bother to write what I just did. I just want to make it clear to everyone that I feel this new line of machines is an incredible improvement over what has existed previously for this protocol. In so doing, I can't provide you with anything graspable other than my own experiences as an instructor who asks certain tasks to be performed with consistency by my subjects. This is all I have to go on and for my purposes is much more reliable than anything written in a peer reviewed journal or agreed upon by the experts on an internet forum.
All of the modifications that have been made to this new line have allowed me to witness an expression of this exercise protocol that I previously hadn't seen. From a teaching perspective (which as an instructor is my main interest) things have gotten much easier. I have been able to cut down on excess verbiage and make my commands much more succinct. I no longer have to ask a subject if they intellectually understand what I'm asking of them because they show me their understanding with physical immediacy.
To give you a brief example I'd like to describe an experience I had with a client yesterday. This client has been coming to Overload for 4 years and in that time has had to limit what upper body exercises she can do for her anterior upper extremity structures due to a preexisting shoulder condition. For her this has meant the elimination of all compound pushing movements. I can sympathize with her as I have a battered right A/C joint from my years as a pitcher. I personally am able do compound pushing exercises, but often not pain free and the resultant weakness and instability in that shoulder always seems to be the cause for the exercise set terminating. This has been something that I have found to be personally frustrating both because I experience it in my own workouts and because I have seen it occur in clients over the years. I've had "it" happen both on the SSS line of upper body compound pushing equipment and the Med-X line of the same ilk.
To my surprise the tweaks and improvements that have taken place in the new RenEx line have allowed me to train these same movements without my shoulder becoming the cause of termination. I know everyone reading this will demand justification for that statement, but I can't provide it (at least not the justification that you may think you want).  I just know that for now, it appears to be the case that these machines are serving me better in this capacity. I have a few theories as to why it may be the case, but that is beyond the scope of this post and may be something that I trey and address in the future.
Getting back to the story about my client, in lieu of my experience on the RenEx Overhead Press, I decided to run a test and asked this client if she felt OK with giving this new machine a trial.  I was shocked that she replied with an enthusiastic, "Yes!" Try and appreciate that this client has been unable to even so much as initiate an overhead pressing movement without pain. I was slightly nervous at what may be the result, but simultaneously confident that it would turn out okay based on my personal experience.
After finding her seat setting, I proceeded in providing clear and careful instructions as to how she was to engage the belt, the back pad, lock those two in place, and then allow the force created by that lock to transmit up through her torso, through her arms, and finally through the movement arm handles. The initial movement was amongst the most graduated that I'd ever seen this particular client engage an exercise. After confirming that she wasn't experiencing any pain, we continued the exercise as close to muscular failure as I felt was appropriate for this session.
To say that I was blown away by what I observed would be an understatement. First, this set in every way possible looked better than anything else I'd ever seen out of her. Second, she experienced no pain in an overhead pressing movement for the first time ever. Like I mentioned previously, I don't know if I can answer the reasons for everything that I observed, and quite frankly, I don't know if I need to. This is only one example of a number of examples that I've observed since these machines have arrived in our studio.
I understand that none of this provides quantifiable proof of the efficacy of this equipment and protocol, but it does give some "objectively subjective" description of how this equipment has in my experience improved the implementation of this protocol.
In my next post I'd like to address a question I get a lot, "Do clients really care about the equipment?" Until then, have a good one.