Flying – Just A Theory!
By Brenda Hutchins
While eagerly reading everyone's comments to the "Inroad Theory Vs Whatever" post, I was struck by the similarity to the Wright brothers, who were simply dismissed while trying to solve the problems of flight. According to the extensive accounting on Wikipedia (indented, italicized  text), they endured mockery during fledgling attempts.
…even the "Dayton Journal" refused to publish their story, saying the flights were too short to be important. The lack of splashy eyewitness press coverage was a major reason for disbelief in Washington, D.C. and Europe and in journals like "Scientific American," whose editors doubted the "alleged experiments" and asked how U.S. newspapers, "alert as they are, allowed these sensational performances to escape their notice."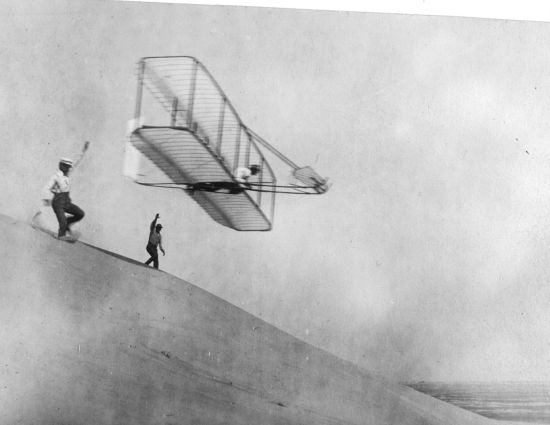 Science is fraught with those that argue against improvement, because they are anchored in the past, always protecting their phony baloney turf. Refusing to accept empirical observation because it is not performed in the laboratory in a double-blind, randomized, placebo-controlled study is pathetic. Every single one of us has people in mind who were not supposed to improve beyond their current status (as told by doctors and/or therapists). Quite frankly they were simply discarded by failed "scientific" healthcare therapy.
Nevertheless, they show up every day, because they are unwilling to accept the final verdict of unfulfilled results meted out by established run-of-the-mill therapy practices. It irks me that somehow eager graduates emerge as toe-the-boiler-plate converts, inoculated against thought to break with ineffective established practice, no matter how blatant. Instead they march to the beat, green-lighted to overlook lack of results. After all, their job is now simply parting the patient from their money (insurance benefits) until all sessions are exhausted according to their individual plan.
Perhaps we are in error for not taking time to formally document what we do. Why? Simply because we are heavily booked with appointments to actually help those slighted souls regain use of their bodies, one by one.
Much like our definition of exercise is our foundation,
…The Wrights—and Lilienthal—used the equation to calculate the amount of lift that wings of various sizes would produce. On the basis of measurements of lift and wind during the 1901 glider's kite and free flights, Wilbur believed (correctly, as tests later showed) that the Smeaton number was very close to 0.0033, not the traditionally used 60 percent larger 0.0054, which would exaggerate predicted lift.
It seems to me that a perfect example of going against conventional "theories" is exemplified by the Wright brothers who worked at the problem of flight from a different angle.
…Although not the first to build and fly experimental aircraft, the Wright brothers were the first to invent aircraft controls that made fixed-wing powered flight possible.
…Their first U.S. patent, 821,393, did not claim invention of a flying machine, but rather, the invention of a system of aerodynamic control that manipulated a flying machine's surfaces.
They gained the mechanical skills essential for their success by working for years in their shop with printing presses, bicycles, motors, and other machinery. Their work with bicycles in particular influenced their belief that an unstable vehicle like a flying machine could be controlled and balanced with practice.
… At the outset of their experiments they regarded control as the unsolved third part of "the flying problem". They believed sufficiently promising knowledge of the other two issues—wings and engines—already existed. The Wright brothers thus differed sharply from more experienced practitioners of the day,… who built powerful engines, attached them to airframes equipped with unproven control devices, and expected to take to the air with no previous flying experience. Although agreeing with Lilienthal's idea of practice, the Wrights saw that his method of balance and control—shifting his body weight—was fatally inadequate. They were determined to find something better.
A similar vein of reading, study, trial-and-error exploration, and observation laid the foundation for the Renaissance of Exercise. During the period—roughly mid-1979 to late 1982 – was Ken Hutchins' most fertile opportunity for intellectual exploration and development. He credits this to the environment provided by Arthur Jones at his expense and creation. When time permitted, he was encouraged to read and write incessantly, explore photography, talk with colleagues, travel, or study past and present prototypes. He used every moment to develop his understanding for future advancement of equipment and educational materials. He remained busy, but without formal structure. He was afforded a truly self-paced education.
It was during the Nautilus Osteoporosis Study that he realized efficient muscular loading, as well as motor control, were severely compromised because of friction-laden equipment. Out of necessity, advances in conventional protocol culminated in what is recognized today as the ideal. However, only recently has the ideal equipment emerged to complete the manifestation of the philosophy and is no longer an illusive goal.
Equally unfettered by convention, and
…On the basis of observation, Wilbur Wright concluded that birds changed the angle of the ends of their wings to make their bodies roll right or left. The brothers decided this would also be a good way for a flying machine to turn—to "bank" or "lean" into the turn just like a bird—and just like a person riding a bicycle, an experience with which they were thoroughly familiar. Equally important, they hoped this method would enable recovery when the wind tilted the machine to one side (lateral balance). They puzzled over how to achieve the same effect with man-made wings and eventually discovered wing-warping when Wilbur idly twisted a long inner-tube box at the bicycle shop.
Other aeronautical investigators regarded flight as if it were not so different from surface locomotion, except the surface would be elevated. They thought in terms of a ship's rudder for steering, while the flying machine remained essentially level in the air, as did a train or an automobile or a ship at the surface. The idea of deliberately leaning, or rolling, to one side seemed either undesirable or did not enter their thinking. Some of these other investigators, sought the elusive ideal of "inherent stability," believing the pilot of a flying machine would not be able to react quickly enough to wind disturbances to use mechanical controls effectively. The Wright brothers, on the other hand, wanted the pilot to have absolute control.
Unlike the way the Wright brothers were able to "bank" or "lean" into the turn just like a bird or better yet—just like a person riding a bicycle, an experience to which most of us can relate—the surprise of just how good RenEx-corrected designs feel is unimaginable. You simply must experience it for yourself to begin to grasp the magnitude of possible personal results that follow.