One would assume that the most common questions asked of a RenEx instructor has to do with topics such as rep performance, load, fat loss, or a variety of other exercise protocol/ health related topics.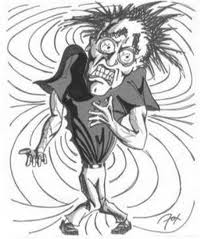 It may come as a surprise however that THE most common question I, as an instructor, get asked has to do with the anxiety that precedes the performance of High Intensity Training.
What may also come as a surprise is that among all of the anti-paradigmatic ways that we at RenEx approach exercise in general, the thing that may differentiate us from the mainstream more than anything else is our approach to the topic of dealing with workout related anxiety.
Anxiety is an interesting topic because for the most part its manifestation is a neural and psycho-physiological response enacted through a chain of events that originated from something imagined.
While it may be true that the perceived event that the anxiety is in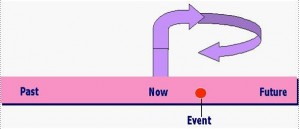 response to may be based on events that actually occurred, the fact of the matter is that the anxiety itself is stimulated by something that happened in the past or hasn't happened yet (and may never).
Not unlike any other instinctual evolutionary mechanism, anxiety is an essential survival response to stress, similar in nature to the fight or flight response.
Also, similar to the fight or flight response, its rampant stimulation is more or less self created in and by our modern day world.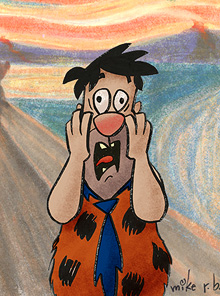 Buttons that were probably only ever meant to be pushed a few times throughout a lifetime are now stuck in the "on" position constantly and all because we live in our heads.
Taking the preceding information into consideration, it should come as no surprise that the process of purposefully engaging in an activity (like High Intensity Training) that the body perceives as life threatening is going to be likely to create a certain degree of almost unmanageable anxiety.
What I find interesting at this juncture is the dichotomy between the commonly stated objective of strength building exercise and the traditional attitude often applied by trainers and trainees alike in fulfilling that objective.
If you were to ask most people educated in the field of exercise to state the objective of strength training you would almost unanimously hear something like this: "To apply a stress to the body in such a fashion that it stimulates the organism to respond via a process of adaptation."
I'll assume that everyone reading this understands the aforementioned adaptation is more muscle.
An often stated and sometimes implied corollary to the exercise process is that we must momentarily dupe or trick our body's protective instincts into allowing us to stimulate our biology.
So why then have we always gone about this by primarily trying to find an external means to control this situation?
Notice I said primarily.
We try to manipulate external variables such as sets, reps, speed of motion, equipment, environment, nutrition and so on. 
These things are most certainly required and do address the structural components of the stimulus, but for the most part they completely ignore what may be the most critical barrier that we must workaround: the fight or flight response and other psychosomatic variables like anxiety.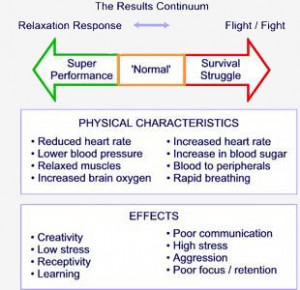 Remember that these, like the reluctance of the body to build muscle, are also part of the protective mechanism that must be duped.
Most don't care to study these variables because this field often carries a "stink" of either macho posturing or overly analytic intellectual arrogance.
The former is "tougher" and less "flakey" and the latter is more scientific and prestigious.
I'm not pointing fingers as I'm as guilty as anyone. 
It is my supposition however, that we tend to study the external things because they are graspable objects that fit nice and neatly into our conceptual boxes.
In other words, we can control them and we don't like to study things we can't control.
In so doing, we have (up until now) completely ignored the one thing that could be the rate limiting factor.
I say "could be" because one, I don't know, and two I'd prefer not to stick my foot in my mouth.
To go deeper requires that we give up our ego and admit that we don't understand ourselves well enough to make anything else matter.
Maybe it's because I'm not bright enough to delve into the more mechanical issues of exercise, but duping the fight or flight response and the tertiary issues of anxiety has always been my primary area of interest. 
Like I said, it doesn't make much sense to me to spend so much time trying to stress and trick the body by assaulting it externally if you can't get past "the anxious gatekeeper" first. 
In my opinion, there is a sequence to the duping process and this sequence must be followed if a trainee is going to be able to consistently and skillfully apply the stimulus.
Skip one step in this process and stimulation becomes a hit or miss affair.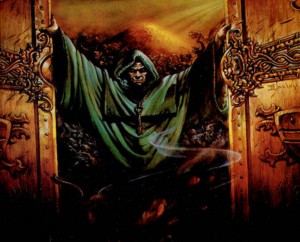 In a few days I'd like to follow up with my experiences in trying to "dupe the gatekeeper" and touch on the way I've commonly seen this approached, what works and what doesn't, and why something so stupidly simple is so profoundly important. 
I'd like to delve into the head of the trainee and maybe do a play by play analysis of a set of exercise. 
Until then, please leave me your comments below as this topic of  fight or flight response is a topic I believe we will all benefit from greatly and I'd love to hear your thoughts on it.